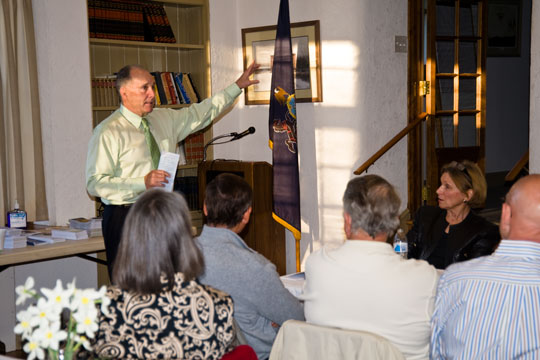 It was a little bit of getting to know you last week when state Rep. Stephen Barrar introduced himself to residents of Pennsbury Township.
Close to three dozen people attended a resident awareness session that included a light supper at the township building on April 24. The discussion ranged from the personal to taxes, to the economy, firearms and fracking.
The nine-term Republican legislator is seeking another two years in office for a newly redrawn 160th Legislative District that will now include Pennsbury and Kennett Townships as well as Kennett Square. Those municipalities had been in the 158th district. The 160th loses Chester Heights, Aston and Birmingham. The changes become effective Dec. 1.
One of the more pressing problems facing the commonwealth, Barrar said, is the economy and the state's pension system.
He said the state's current deficit is approaching $1 billion and "The only way to get money is to stick our hands into your pockets and take it out."
One part of trying to fix — or slow — the deficit is to reform the state pension system, but Barrar sees political opposition.
"No Democrat will vote for pension reform. They're trying to get [Gov. Tom] Corbett to fail. The Republicans have the numbers to pass reform, but it's all political."
He said he wants to see an end to pension spiking, the act of employees deliberately racking up excessive overtime in the waning years of their careers to draw a larger pension. As an example, he mentioned a state police corporal who made $170,000 in one year even though his base pay was $80,000.
One person challenged Barrar, asking why the Republicans just don't pass reform measures if they have the votes to do so.
He responded by saying that would not look good, politically, but any change will probably be applied to new employees, having them pay more into their own retirement funds.
Barrar also reminded residents that gasoline taxes will be going up again this year and next. He said they went up $.09 in January and will jump by the same amount in July of this year and next.
Much of the money is supposed to be earmarked for bridge repairs, but there will be competition for the money from airports and port authorities, he said. Southeastern Pennsylvania Transportation Authority also wants an additional $300 million, but "SEPTA is not a good steward of the money we give it."
He was asked about the status of the twin bridges over the Brandywine on Creek Road between Chadds Ford and Pennsbury. Barrar said he had just spoken with PennDOT representatives that day who told him that the bridge is "structurally sound even though it's not pretty."
Barrar also acknowledged that he and other Republicans voted for some tax increases during the Rendel administration under the promise that Route 322, the Conchester Highway running from Concord Township to I-95, would be improved and widened to four lanes. Property condemnation is currently going on for that purpose.
Saying that Pennsylvania is the second largest energy producer in the country — right behind Texas — Barrar wants to use the fracking tax from Marcellus Shale drilling to get rid of other taxes, such as the inheritance tax.
He added that shutting down coal-fired power plants would lead to rolling blackouts in the state during the summer months.
Another resident asked Barrar about his stance on firearms and gun control.
Barrar said he's a supporter of the Second Amendment and that there are people who are trying to take away that constitutional guarantee.
"They're trying to take away that freedom. If they take that one, they'll take others," he said.
He said people who use a firearm during the commission of a crime should be required to serve their full sentences and that the prosecutors and courts should enforce laws that are already on the books. There's no need for more laws.
"If there's a five-year sentence for burglary, it's supposed to go to 10 years if a gun is used. If you commit a crime with a gun, you should have to serve 100 percent of the time, but some [gun control advocates] are also opposed to increased sentences," he said.
Barrar — a former owner of a retail garden center — told the residents he's looking to serve them, saying he still sees his constituents as his "customers" and wants to help them to work with the various state agencies.
"I want to be part of the community," he said.
Barrar will face Democrat Whitney Hoffman, of Kennett Township, in the November general election.
Top photo: State Rep. Stephen Barrar addresses Pensbury Township residents for their first time as constituents of the 160th Legislative District.

Rich Schwartzman has been reporting on events in the greater Chadds Ford area since September 2001 when he became the founding editor of The Chadds Ford Post. In April 2009 he became managing editor of ChaddsFordLive. He is also an award-winning photographer.
Comments
comments