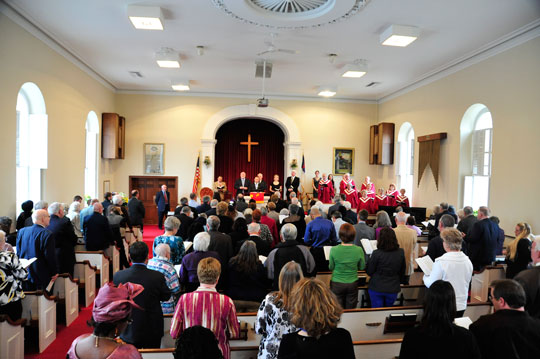 After 18 months without a fulltime pastor, Brandywine Baptist Church installed the Rev. Marcos Almonte to replace the Rev. William Scott who retired in 2012 after 24 at Brandywine Baptist.
The formal installation was conducted in a ceremony at the church on Sunday, March 23.
Almonte was ordained 2008 after graduating from Palmer Theological Seminary with a master's degree. He had previously earned a bachelor's degree in psychology from Judson College in 2004 and was a pastoral intern at Springfield Baptist Church before coming to Brandywine.
Chadds Ford residents Katharine King and Gary Sharp were on the Pastoral Search Committee, with King serving as chairperson.
She said during the ceremony that the committee wasn't satisfied with the candidates from the first group of names that came in. But sometime in between getting that first list and asking for a second, Almonte applied.
According to King, it was an example of "the perfection of God's timing."
Every member of the committee voted for Almonte, she said.
"It was gratifying to see 100 percent of the vote…We almost danced in the Fellowship Hall," she added.
Almonte received the charge to the pastor from his father, the rev. Ramon Almonte, while the congregation received its charge from the new pastor's father-in-law.
Chadds Ford Township Supervisors' Chairman Keith Klaver also attended the ceremony to officially welcome Almonte to Chadds Ford.
Chadds Ford's Rob King, an elder at the church, gave the Declaration of Installation.

Rich Schwartzman has been reporting on events in the greater Chadds Ford area since September 2001 when he became the founding editor of The Chadds Ford Post. In April 2009 he became managing editor of ChaddsFordLive. He is also an award-winning photographer.
Comments
comments