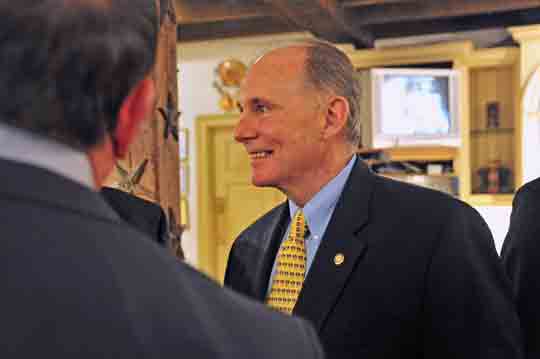 State Rep. Stephen Barrar has two challenges this year in his bid for another term representing the 160th Legislative District. The nine-term Republican legislator will face a relatively unknown Democrat challenger in November and will have to campaign in new municipalities.
Legislative districts in the state have been revamped. The 160th loses Birmingham Township along with Aston, Thornbury and Chester Heights. However, the district picks up Pennsbury and Kennett townships as well as Kennett Square.
Barrar — who ran unopposed in 2012 — will also face a political newcomer, Democrat Whitney Hoffman, a Kennett Township resident. Hoffman is the director and CEO of Hoffman Digital Media. While she's never run for elected political office before, she's been involved with the Kennett Consolidated School District as a member of the strategic and technology committees.
Barrar, who said he's proud of his record during the last 18 years, said that record could work against him when facing a newcomer. He knows nothing about her and neither does state Rep. Chris Ross who's 158th Legislative District used to include the three new municipalities for the 160th.
"I don't know anything about her. I spoke to the former representative, Chris Ross; he's never heard of her. There is an advantage sometimes of coming out of nowhere and taking on an incumbent because I have a record and records can be interpreted the way you want them to look. But, I think I have a great record of representing the people in the district and that's what I'm running on."
Campaigning in new municipalities is something Barrar has done before. In 2002 the legislature went through redistricting and the 160th gained Chadds Ford, Birmingham and Pocopson townships.
Barrar is excited about the propect and said he intends to do a lot of door-to-door campaigning, meeting and shaking hands with new people.
"For me, that's really where the challenge is going to be because a lot of the people in Pennsbury, Kennett and Kennett Square don't know who I am. So, for me, it's a chance for me to go out there and introduce myself to them, talk about my record. I think I have a lot of accomplishments. I think when I talk to people and tell them how I've been dedicated to this job for the past 18 years. In 18 years I've missed three days on the job. I think that type of record is what people are going to look for in an elected official."
But he also said it comes down to having a record, the candidate's and the party's.
"The Republicans have been in charge now for four years and I think the issues such as the economy and education will be in the forefront of the campaign," he said. "Our record is good, but you have to remember that we've been in a recession now for the last three or four years."
He added that the state has passed lean budgets during the last three years and that could affect how some people vote.
"People who depend on money from our budgets are always claiming that we haven't spent enough on education and other areas of the budget," Barrar said.
However, he thinks his own record shows he's done well when it comes to jobs.
"I'm running on my record. I think I have a great record. I played an important role in trying to preserve jobs here in Delaware County when the refineries threatened to leave. I was part of that delegation that fought to keep the refineries. I met with them numerous times to try to secure the jobs at the refineries. That would have had a serious effect on our economy, the loss of those refineries. We're still feeling the pinch, but I think we did a good job keeping those refineries here. I think we're starting to see big improvements in our economy and the whole economic situation of this area."

Rich Schwartzman has been reporting on events in the greater Chadds Ford area since September 2001 when he became the founding editor of The Chadds Ford Post. In April 2009 he became managing editor of ChaddsFordLive. He is also an award-winning photographer.
Comments
comments