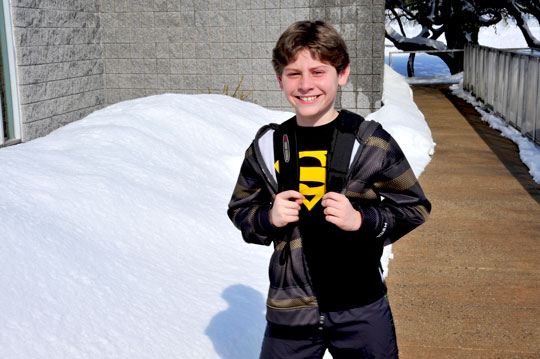 Nikolas Toocheck likes to run, both for his own sake and for a good cause. He's run five marathons on four continents so far and plans a minimum of three more in order to run on all seven.
He could become the youngest person to run marathons on all the continents. He's only 10 years old.
Nikolas is a fifth-grade student at Hillendale Elementary School and was named one of Pennsylvania's top two youth volunteers for 2014 by The Prudential Spirit of Community Awards, a nationwide program honoring young people for outstanding acts of volunteerism.
He runs to earn money for Operation Warm — an organization founded by his grandfather — that delivers winter coats to needy youngsters. Nikolas started his own campaign, Running the World for Children, and has raised $30,000 so far. His goal is to raise $1 million, roughly the same number of steps he would have to take to run all seven marathons.
"It takes about a million steps to run seven marathons," he said. "So it would be really cool to raise $1 million by the time I finish."
He's raising the money by word of mouth. He tells his friends and they tell others, he said. All the money raised goes to the project. The family pays the travel expenses, the airfares, food and lodging, Nik's father Dan Toocheck said.
In addition to running in Antarctica, Nik has run in Australia, North and South America and is planning to run a marathon in Victoria Falls, Zimbabwe Africa this June.
As a state honoree with Prudential, he also gets $1,000, an engraved silver medallion and an all expense paid trip in early May to Washington, D.C.
His interest in running began early while running with his father. Nikolas started with quarter-mile runs and built from there.
"After my first half-marathon I thought, 'Wow, wouldn't it be cool to do a full marathon?' And then we were talking about running in different places and it was like, 'Wouldn't it be awesome if I could do a marathon on every continent and while doing that, raise money for Operation Warm,'" he said. "I came up with that idea because my grandfather started the organization and I kind of thought doing the two things I loved — running and raising money at the same time — would be really cool."
Another thing he thinks is "really cool," was running in Antarctica, something he's already done twice. On his first trip in February of 2013, a warm day when the temperatures were in the mid-30s, he ran in shorts going past penguins and sea lions. At that time he became the youngest person to take part in the White Continent Marathon.
Nikolas has also taken part in track and field events with the USA Track and Field Junior Olympics and the American Athletic Union and earned medals in the shot put and high jump.
For more information on Nik's goals and adventures, visit his Web site at www.nikrunstheworld.com. Clicking on the "donate" button connects with Operation Warm's Web site.

Rich Schwartzman has been reporting on events in the greater Chadds Ford area since September 2001 when he became the founding editor of The Chadds Ford Post. In April 2009 he became managing editor of ChaddsFordLive. He is also an award-winning photographer.
Comments
comments