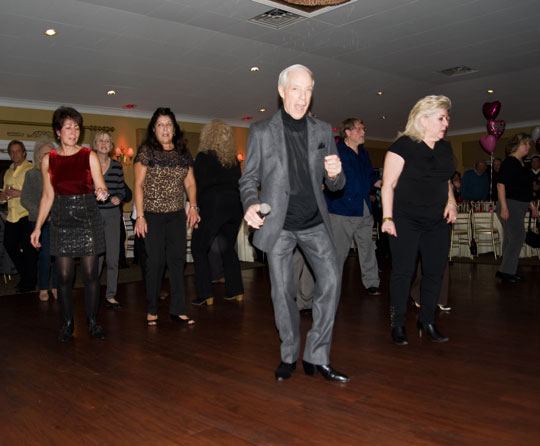 • Penn Oaks Country Club was the joint that was jumping Saturday, Feb. 8, as the Glen Mills-Thornbury Rotary held an oldies dance fund-raiser with Philadelphia rock radio legend Jerry Blavat, "The Geater with the Heater, Big Boss with the Hot Sauce," as DJ. Blavat and the tunes kept most everyone dancing all evening.  (See photo.) The event raised money for the rotary's charities, including The Arc of Chester County, 9th Street Community Center and the Hope Orphanage in Guyana.
• This year's plein air event at the Chadds Ford Historical Society has been canceled due to weather. The event was originally scheduled for Feb. 8, but was rescheduled to Feb. 15 because of storms and power outages. This weekend's reschedule is now canceled because of another impending storm.
• "Science After Dark: Evolution of Love," the Delaware Museum of Natural History's adult program scheduled for Thursday, Feb. 13, from 5:30 - 7:30 p.m., has been cancelled in anticipation of potentially severe winter weather.
• The Delaware Museum of Natural History celebrates Presidents' Day on Monday, Feb. 18, with Natural Leaders: Presidents and Nature. This family-friendly weekend features hands-on activities and crafts about presidents' roles in environmental preservation and conservation. Visitors will learn important facts about past presidents and their effects on the natural environment. Families can embark on a scavenger hunt around the museum to find animals discovered on Thomas Jefferson's Lewis and Clark Expedition. A matching game will explain Theodore Roosevelt's "natural" empire of national forests, parks, and preserves. In addition, visitors can also learn why Benjamin Franklin preferred the turkey to the bald eagle on the famous Great Seal of the United States. An exhibit on endangered species and a polar bear activity will shed light on the accomplishments of more recent presidents, such as Lyndon Johnson, Richard Nixon, and Jimmy Carter.
• The Unionville High School annual Used Book Sale is set for Feb. 22 at the UHS gymnasium, but residents are being asked to keep the book donations coming. Local residents who haven't yet donated unwanted used books for the annual PTO sale are being urged to do so by Feb. 19. The PTO is looking for gently used books in clean, dry condition with covers intact. Other items being accepted include audio books, CDs, DVDs, VHS tapes with original packaging, and video games compatible with major gaming formats.
• Bundle up and enjoy this annual celebration of the maple tree's sweet offerings by attending Tyler Arboretum's annual Pancake Breakfast and Maple Sugaring celebration from 8 a.m. – 1 p.m. on Saturday, Feb. 22. Visitors are invited to join one of the ongoing tours at Tyler to discover how sap is turned into syrup, and then take a turn tapping a tree. After, appetites are satisfied in the historic Barn with Tyler's famous all-you-can-eat pancake and sausage breakfast. Hot coffee and cocoa accompany this delicious wintertime feast. Admission is $12 for adults, children (ages 3-12) $6, and children under age three are free. All proceeds benefit Tyler Arboretum. Because this is a fundraiser, no free passes are allowed for this event. The snow date for the Pancake Breakfast and Maple Sugaring Celebration is March 1.
• The Chadds Ford Historical Society opens its 2014 spring lecture series on Tuesday, Feb. 25 at 7:30 p.m. Ron Sloto of the U.S. Geological Survey will discuss "The Mines and Minerals of Chester County." Ron is a geologist who's worked at the Geological Survey for 40 years. Pennsylvania played a crucial role in the Industrial Revolution, being the only one of the original 13 colonies which had all the critical natural resources like coal, iron ore, petroleum and timber in abundance.
• The Kennett Area Senior Center sponsors a Book Talk by Donna Murray, from the Bayard Taylor Library, on Wednesday, Feb. 26 at 12:30 p.m. Mrs. Murray will be reviewing the book "North and South" by Elizabeth Gaskell.
•The Brandywine River Museum of Art will share center stage at the 2014 Philadelphia Flower Show. This year's theme is "ARTiculture, where art meets horticulture" and in an unprecedented collaboration, floral and garden designers will take their inspiration from art found in the nation's leading museums. The Museum will be partnering with Stoney Bank Nurseries. Their display, The Beauty of the Brandywine, is inspired by art by three generations of the Wyeth family. Stoney Bank Nurseries, a 35-year Flower Show exhibitor, has won some of its most prestigious awards, including Best in Show five times.

See Contributors Page https://chaddsfordlive.com/writers/
Comments
comments