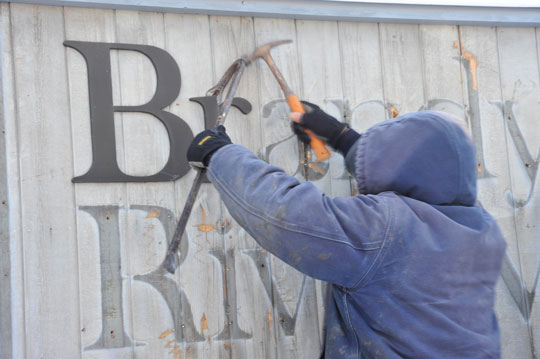 There is the age-old question: "What's in a name?"
For the Brandywine River Museum it's a matter of being properly known outside the local community. That's the reason the museum is now called the Brandywine River Museum of Art.
It also has a new tag line, "Presenting Wyeth and American Art."
The name change was announced Friday, Feb. 7, when the double-sided sign on Route 1 in front of the museum was unveiled.
A large group of employees braved the chilly weather to watch the unveiling and to listen to Virginia Logan, the executive director of the Brandywine Conservancy, explain the rationale for the change.
The conservancy, too, has a slight name change. It's now the Brandywine Conservancy and Museum of Art, reflecting both sides of the organization's mission.
Logan said people outside the region did not recognize the name Brandywine River Museum as an art museum, hence the need for the change.
"We know we have many loyal followers who know us well and love the Brandywine River Museum. But we also did an extensive study and reached out to people, including art patrons in a much broader market throughout the Mid-Atlantic region to find out what they knew about us. We were surprised to learn that, unless they knew us from some prior context, it wasn't immediately obvious to them, from the name Brandywine River Museum, that we were, indeed, an art museum, let alone that we showcase three generations of masterpieces by Wyeth family artists." Logan said.
Logan also noted some other highlights and projects. One is a network of trails linking more than 300 acres around the conservancy with historic properties that
surround it. Those trails will be open to the public.
On April 5, the conservancy will plant its 25,000th tree in five years, but plans to double that by the conservancy's 50th anniversary in 2017.


Rich Schwartzman has been reporting on events in the greater Chadds Ford area since September 2001 when he became the founding editor of The Chadds Ford Post. In April 2009 he became managing editor of ChaddsFordLive. He is also an award-winning photographer.
Comments
comments