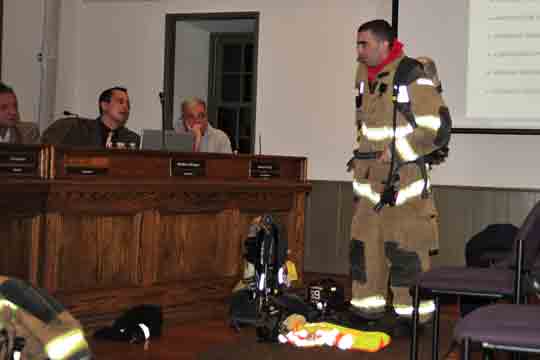 Several members of the Concordville Fire Co. spent a frigid evening talking fire safety with members of the Chadds Ford Citizens Emergency Response Team.
President Lee Weersing reminded people that it's imperative to be cautious when using portable heaters and to make sure their chimneys are clean and in safe condition when using fireplaces and wood burning stoves.
"Keep the chimney clear and don't put spent ashes in cardboard boxes," Weersing added.
He said those spent ashes can start a fire even if they've been sitting for 48 hours.
Weersing also said never use a kitchen stove to keep warm.
Business Manager Rick Vasek, a career firefighter for more than 40 years, also stressed calling 911 as soon as possible should a house fire break out. He repeated that again when the conversation turned to fire extinguishers.
Vasek said it was OK to try to put out a fire using a proper extinguisher, but call 911 first and get out of the house if you're not successful in extinguishing the blaze rapidly.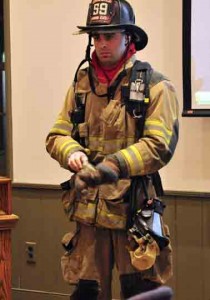 He also said to keep the extinguisher close to an exit. The idea is that people should never be caught with a fire between them and the door. That's why fire extinguishers are kept near exits in public buildings. When trying to put out a fire, fight it with your back to the door.
When it comes to purchasing an extinguisher, buy one that's labeled ABC. They will be able to extinguish the three primary classes of household fires, wood/paper, chemical (grease) and electrical.
The ABC extinguishers use dry chemicals, including baking soda, that remove the oxygen and smother a fire. Never use a water type extinguisher on grease or electrical fires.
Most extinguishers will last about 10 years, but periodically check the built-in pressure gauge to make sure it's still "in the green."
Concordville Fire Co. covers a 45-square mile area and responds, on average to 900 fire and rescue calls and 500 emergency medicals calls per year, Vasek said. Roughly 18 percent of the fire calls and 13 percent of the EMS calls are in Chadds Ford Township.
Approximately 26 percent of Chadds Ford households donate to the fire company, slightly less than the 30 percent average.
Photos: A volunteer firefighter from Concordville Fire Co. demonstrates donning personal firefighting gear that costs close to $10,000.

Rich Schwartzman has been reporting on events in the greater Chadds Ford area since September 2001 when he became the founding editor of The Chadds Ford Post. In April 2009 he became managing editor of ChaddsFordLive. He is also an award-winning photographer.
Comments
comments