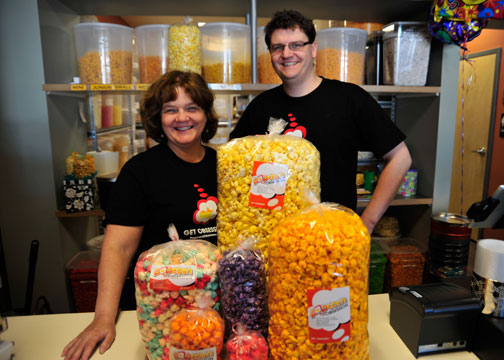 Chicken wings and pizza are great for Super Bowl Sunday, but Cindy and Benjamin Fox think popcorn should be part of the menu, too. They also think popcorn should be a staple for family video nights or any other occasion for that matter.
The mother and son team owns and operates Popcorn Obsession, the new gourmet popcorn store between Ming Village and the Painters Crossing Dry Cleaners in the Painters Crossing shopping center.
They opened the shop on Jan. 11 and already have daily customers, Ben Fox said. That's not surprising since they get some subtle, yet free, advertising every time the door opens. The gentle aroma of freshly popped popcorn with a variety of flavors drifts out to the sidewalk.
There are 70 flavors available ranging from original and movie-theater buttered to cheese, kettle, caramel and chocolate flavored popcorn. There's also candied popcorn with flavors from banana to watermelon. And let's not forget the spicy buffalo.
Prices range from $1 for a mini bag — 3 cups — of regular to $120 for an extra large bag — 110 cups — of chocolate. There are even options in the chocolate, regular, dark caramel, white and pretzel.
Ben Fox is the main man in the kitchen. He learned from a man in Dallas, Texas who's operated a popcorn shop there since the 1970s, but he's working on a few flavors of his own, like beer, Philly cheese steak, pineapple and hot chocolate.
It's not his first foray into retail or into a commercial kitchen. Ben Fox has about 10 years of retail experience and was at one time a sushi chef. But the idea to start a popcorn business was actually his parents' when they lived in Denver, Colo.
Cindy Fox and her husband moved to the Philadelphia area when her husband was transferred 10 years ago, and Benjamin followed five years later.
It may have taken 10 years for the kernel of the idea to pop, but they're glad it finally did.
"We are having a blast with how well it's being received by the community," said Ben Fox. We had high hopes. We expected people to enjoy it and be happy that we're here, but people have been just ecstatic. We couldn't be more thankful."
Cindy Fox couldn't resist lapsing into the proud mama.
"If you see him make the popcorn, it's very chef-like. There's an art to it because you have to have just enough this and not too much of that. It's very gourmet."
She also said there was a slight surprise regarding the customer base.
"We initially thought mostly kids, but what we found is that people come in and see the candy we offer and we have an extensive nostalgic candy section. It seems like the adults are as, or more excited than we are.
"The demographic has changed from children to young adults. But who doesn't like popcorn. With more than 70 flavors somebody can find something that they like."
Current store hours are 10 a.m. to 8 p.m. Monday through Saturday and 11 a.m. to 6 p.m. on Sunday.  They also have a Web site, popcornobsession.com. For more information call 484-840-8475 or send e-mail to info@popcornobsession.com Popcorn Obsession is also on Facebook.

Rich Schwartzman has been reporting on events in the greater Chadds Ford area since September 2001 when he became the founding editor of The Chadds Ford Post. In April 2009 he became managing editor of ChaddsFordLive. He is also an award-winning photographer.
Comments
comments