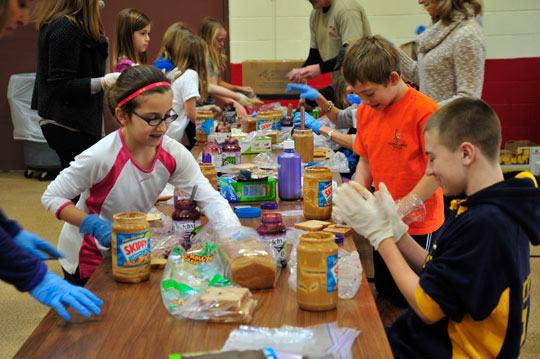 Once again, Martin Luther King Day was a day for service to community in the Unionville-Chadds Ford School District. While there were no classes on Jan. 20, it was, as the district calls it, "A day on, not a day off."
There was activity in most of the schools that morning. Volunteers at Hillendale Elementary School, again, made lunches for several service organizations, while at Chadds Ford Elementary, volunteers made pillows.
The pillows were donated to Mom's House, Pathways PA and to Nemours/Alfred I. duPont Children's Hospital, according to Ira Tripathi-Zutshi, of CFES PTO.
According to Pathways Treasurer Kelly O'Leary, Pathways aims to help women and children rebuild economic stability and provide safety and quality of life.
"What's great is that Chadds Ford Elementary partnered to provide the children at out family center some dolls and pillows," she said.
Two new things were incorporated into what was going on at Hillendale this year. There was a backpack project in which members of the community donated new or gently used children's backpacks that the volunteers then filled with folders, notebooks, pencils, pens, crayons and markers. According to Hillendale Principal Steve Dissinger, more than 70 backpacks were filled and donated to La Comunidad Hispaña in Kennett Square.
Also new for this year was that Nature's Own Corporation donated 25 loaves of bread.
"We are taking the extra bread and we're putting two peanut butter and jelly sandwiches in each lunch bag that we donate to Safe Harbor," Dissinger said.
Providing lunches is the traditional MLK Day activity at Hillendale.
In addition to the 300 lunches for Safe Harbor, 100 quarts of soup were sent to Catholic Social Charities in West Grove.
Some of the students who volunteered made placemats, cards and decorated the lunch bags.
This is the seventh year for the program and, Dissinger said, that between 9 and 11:30 a.m., 200 to 300 volunteers came to help out. He added that some of the volunteers are from outside the school district, from the Wilmington and West Chester areas.
Dissinger added that the MLK day of Service is the culmination of a period in which the Hillendale community donates food. He said they began a food drive right before the winter break. That food was donated to the Kennett Food Cupboard.

Rich Schwartzman has been reporting on events in the greater Chadds Ford area since September 2001 when he became the founding editor of The Chadds Ford Post. In April 2009 he became managing editor of ChaddsFordLive. He is also an award-winning photographer.
Comments
comments