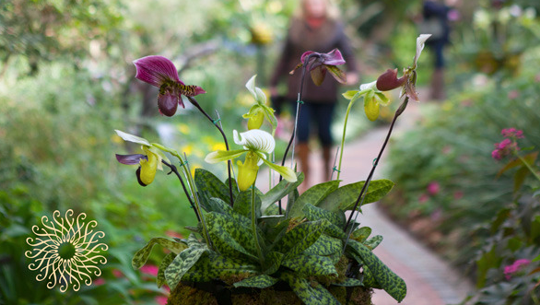 Longwood Gardens is offering guests a winter interlude.  The horticultural showplace near Kennett Square, PA, transforms its majestic conservatory into an Orchid Extravaganza January 25-March 30. The heated 4-acre conservatory is a warm oasis featuring thousands of orchid blooms displayed in extraordinary ways.
Featuring a plethora of colors, sizes and shapes, guests will be amazed by the variety of orchids on display, including Cattleya, Dendrobium, Phalaenopsis, Paphiopedilum and Oncidium, among others. In all, more than 5,000 blooming orchids will delight the senses. In the East Conservatory, white and yellow Phalaenopsis artfully displayed in massive arrangements welcome guests to the Conservatory. Gigantic purple and white orbs of Phalaenopsis hang above the Exhibition Hall, while hand-crafted metal baskets inspired by cattails hold colorful Miltoniopsis. Hanging baskets of Cymbidiums line the yellow-blooming Acacia Passage as a waterfall of golden Oncidium marks the entrance to the South American-inspired Cascade Garden. In all, more than 5,000 beautiful, blooming orchids are artfully displayed.
Additional indoor highlights include the Mediterranean Garden, a riot of vibrant color January through April with Australian purple coral-pea (Hardenbergia) vines blooming like miniature wisteria; while the Estate Fruit House displays nectarines, melons, and other fruits and vegetables flourishing in the midst of winter.
In early March, Longwood's famed Blue Poppy (Meconopsis) returns to the Exhibition Hall. Usually, to see masses of blue poppies in bloom, you needed to travel to Scotland, Alaska, or the Himalayas. Not anymore. Longwood Gardens has successfully produced a stunning crop of blue poppies that decorate the Conservatory's Exhibition Hall with their unique blue blossoms.
OrKid Days Family Fun
The entire family will enjoy Longwood's "OrKid" Days. Spend a Saturday experiencing storytellers and activities throughout the conservatory from noon-3 pm on January 20, February 17 and March 22. OrKID days are free with Gardens Admission.
                                                                                                                                                                                                                                                                                                               The Philadelphia Zoo on Wheels will bring a lineup of exotic animals to the gardens for children to see and learn more about.
About Longwood Gardens
Longwood Gardens is on US Route 1 near Kennett Square, PA, 30 miles west of Philadelphia.  The Gardens Shop is open daily.  The Terrace Restaurant Café is open daily. Please note The Terrace Restaurant Café will offer limited service January 17 –28 and the 1906 full-service dining room is closed through January 28, when it reopens for weekend service, then reopens for daily service on March 21 with an new spring menu.  Admission is $18 for adults; $15 for seniors (age 62+); $8 for students (ages 5–18 or with valid student ID) and free ages 4 and under. Group rates available.  Details  at www.longwoodgardens.org.

Comments
comments