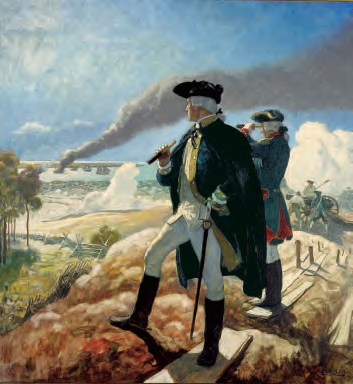 A Date with Art:
The Business of Illustrated Calendars
January 25 - May 18, 2014 at the Brandywine River Museum
Howard Pyle, Maxfield Parrish, Norman Rockwell and N.C. Wyeth--foremost illustrators in the first half of the 20th century--created some of their best-known images for advertising calendars. These hung in millions of homes, shops and offices, providing artists with an opportunity to disseminate their work to a much broader audience than that for books or magazines.
This exhibition introduces visitors to the once-thriving, lucrative business of illustrated calendars.  From Parrish's haunting work for General Electric's Edison Mazda brand to Norman Rockwell's iconic images for the Boy Scouts of America, calendar images contributed greatly to an artist's popular reputation. Yet as these four artists reaped financial benefit and fame by creating art for calendars, the connection to commercial ventures at times undermined their critical reputations as artists. This exhibition, featuring work from public and private collections, will reveal the various ways in which these artists integrated calendar work into their careers, adapting to shifting views of contemporary art, illustration and business.
N.C. Wyeth's America in the Making
January 25 - May 18, 2014
Images of inspirational and patriotic events in American history, from Coronado's 16th-century expedition through the Southwest to Abraham Lincoln's second inaugural address in 1865, will be on view in this exhibition.
The exhibition features 12 dramatic paintings created by the artist in the late 1930s for a popular advertising calendar, and shows Wyeth's renowned mastery of stirring action and authentic detail. Props from the artist's Chadds Ford studio, such as a life mask of Abraham Lincoln, a coonskin cap and a Kentucky rifle, will provide fascinating insight into how Wyeth created these paintings. Visitors will be encouraged to record a calendar image of their own that depicts an important event from American history.
The America in the Making paintings are on loan from the collection of the Brunnier Art Museum of Iowa State University in Ames. An illustrated catalogue from the Brunnier Art Museum will be available.

Comments
comments