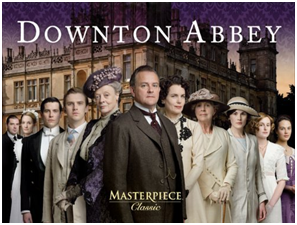 Hotel du Pont is pleased to announce an outstanding month of unforgettable events based on the hit drama, Downton Abbey, to begin January 2014.
Inspired by the masterpiece British television drama on PBS, Downton Abbey Month invites guests to the Green Room restaurant to celebrate a traditional afternoon tea, a specialty lunch, and a formal four-course dinner as it was in times gone past, or more appropriately, as it was when the historic Hotel       du Pont opened over 100 years ago.
Prepare for the Season 4 Premiere on Sunday, January 5, 2014 with a special Downton Abbey Tea including live entertainment and tables dressed with specialty lace linens. On this day only, guests are also encouraged to wear early 1900's Period Dress.  Guests will enjoy a three-course tea service, and can choose from a variety of teas including the new, Hotel du Pont Centennial Blend, a hearty black tea infused with hints of pineapple, the symbol of hospitality.  Tea service begins at 3:30pm and is $34/person.
On January 6 through January 17, 2014, guests can enjoy a specialty themed Downton Abbey Lunch in the Green Room, appropriately priced at $19.12, the year that the show was originally set.
On Saturday, January 11, 2014, the Green Room will host a 4-course Downton Abbey Dinner.  Live entertainment and white-glove service will help set the tone.  Special guest Tom Savage, Director of Museum Affairs at Winterthur Museum and Gardens, will be in attendance to share details regarding the upcoming Downton Abbey Exhibit at Winterthur, which will begin in March 2014.  Dinner is $100/person, inclusive of gratuity, wine pairing, and valet parking.
Be sure to ask about the Hotel du Pont Downton Abbey Overnight stay package, which will be offered starting in March 2014.
For information on any of these Downton Abbey events, or to make a reservation, please call 302-594-3154 or 800-338-3404.
The 217-room Hotel du Pont is located in the heart of Wilmington, less than 25 minutes from the Philadelphia International Airport and only minutes from Amtrak and Interstate 95. The Hotel is a member of Preferred Hotels® & Resorts Worldwide and Historic Hotels of America.  For information and reservations, call 800-441-9019 or 302-594-3100 or contact your nearest travel agent

Comments
comments