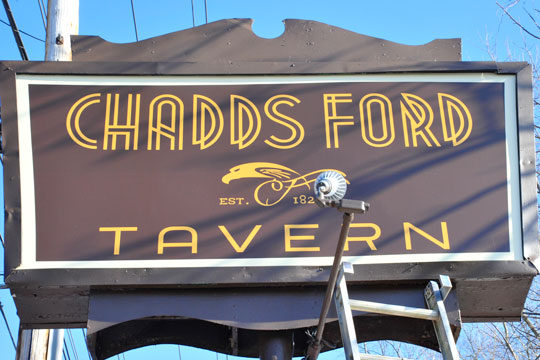 • The Tavern is back. After a long fallow period, the Chadds Ford Tavern is reopened. New owner Kevin Bradley said the reopen date was Dec. 19.
•  Students from Chadds Ford's Chesterbrook Academy carry out more than 50 bags of donations for needy families involved with PathWays PA. Students began collecting gifts in early December. PathWays PA assists more than 4,500 women, children and families each year with its social services, including job training, employment assistance, and outreach and residential programs.
• PJ Whelihan's in Dilworthtown Plaza is the site for friends of the Unionville High School Baseball team to show their team spirit. Go to the restaurant on Dec. 30, between 5 and 9 p.m. and see your friends, while supporting the UHS Baseball Team. Tell your host and server that you are with the UHS Baseball Fundraiser and a portion of the proceeds will be donated to the team.
• The Kennett Square Resale Book Shoppe will be hosting a book signing event on Saturday, Dec. 21 from 11 a.m. – 3 p.m. Local author Jodi Byrne will be available for signing copies of her new book "Dead Land." It follows the life of an 18-year-old girl as she struggles to survive the pressures and temptations of high school, relationships, self-discovery and the end of the world. The novel combines the author's love of fiction, appreciation for young adults and the many challenges they face, and a passion for the spiritual components in life. Byrne currently teaches at Unionville High School. Book copies will be on sale for $13. The Book Shoppe is located at 113 South Union Street.
See Contributors Page http://chaddsfordlive.com/writers/
Comments
comments