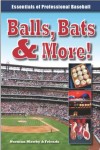 Balls, Bats and More: Essentials of Professional Baseball makes debut at Chester County Book Company on Wednesday, December 18 at 7:00 p.m.  Publisher Norman Mawby and 16 of his friends have collaborated on the ultimate book on the essentials of professional baseball. Mawby's friends include a Hall of Fame writer, the Phillie Phanatic, writers, authors and others interested in the sport of baseball.
"The book has taken several years to compile, write and edit," said Mawby. "Every minute has been great fun and I think those interested in baseball will be fascinated with the inside look at what goes into staging a professional baseball game."
             Balls, Bats and More: Essentials of Professional Baseball makes its debut on Wednesday, December 18, 2013, at the Chester County Book Company, 967 Paoli Pike, West Chester at 7:00 p.m. Mawby and all of the writers are expected to be on hand to sign copies of the book. The 253-page book with 84 color photographs was published by Mawby Publishing Group and sells for $34.95.
             The authors include Michael Fortney of Chester County Book Company, reporters Jim Salisbury and Michael Rellahan, Hall of Fame writer Paul Hagen, Phillie Phanatic Tom Burgoyne, and author Bruce Mowday.
             The writers are: Norm Mawby publisher, Hench Murray, Lou Beccaria, Michelle Bochanski, Bruce E. Mowday, Michael P. Rellahan, Jim Salisbury, John Bochanski, Paul Hagen, Bruce Leith, Michael W. Fortney, Jessica Corry, Terry Dougherty, Ray Hoffman, Leslie Small, John Hollinger and Tom Burgoyne.
 In Balls, Bats & More Mawby and his friends takes the reader inside America's favorite pastime. The team of well-known writers, who are also baseball enthusiasts, provide many interesting details and stories regarding the use of professional baseball essentials. These range from balls, bats and gloves to field standards, scorecards, speed guns, video coaching and much more. The must-read "inside" information provided in this book will enrich the enjoyment of the game.
            For more information on the book, e-mail Mawby at mpgetta1@verizon.net.

Comments
comments