• The Kennett Area Senior Center sponsors a free Medicare counseling clinic on Thursday, Dec. 5 from 8 a.m. to 5 p.m. If you are unhappy with your current Medicare insurance coverage or prescription drug plan, the open enrollment period ends Dec. 7. New coverage begins Jan. 1. Sign up to meet with a Department of Aging volunteer from APPRISE who can help you make a change or evaluate your options. Please contact the Kennett Area Senior Center at 610-444-4819 before the event to make an appointment. Also, for those newly eligible for Medicare on Jan. 1, there will be APPRISE counselors at the KASC on Thursday, Dec. 19 from 9:30 a.m. to 2:30 p.m. (by appointment only) to assist seniors with their new Medicare enrollment questions.
• Santa is coming to Olde Ridge Village during the weekend of Dec. 7 and 8. The bug guy will bring his reindeer for a photo opportunity from noon to 2 p.m. on Saturday, Dec. 7 and will make a solo appearance at Special Teas Tearoom on Sunday at 120 p.m. Tea & Sweets with Santa is $15.95 per person. Reservation and prepayment are required for the tea. Call the tearoom at 610-358-2320.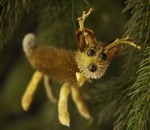 • The annual Critter sale at the Brandywine River Museum is Dec. 7 and 8. Critters are Christmas decorations made from organic materials and come in dozens of shapes and sizes, from small, individual ornaments to large, tabletop decorations. They are made in many likenesses, ranging from animals to ballerinas, Santas, angels, snowmen and athletes. Prices range from $5 to $45, with specialty items starting at $50.
• Tyler Arboretum in celebrates nature and the winter season with the Woodland Winter Wonderland Saturday, Dec. 7 from 10 a.m. – 1 p.m. Held concurrently with the Country Gardeners Greens Sale on the same day from 9:30 a.m. – 1:30 p.m. Activities for the day include hayrides, unique crafts for the kids including natural ornaments using materials gathered at Tyler, a Reindeer Scavenger Hunt for the kids, hot beverages and cookies around a camp fire, historic tours of Lachford Hall and an opportunity to have a professional family portrait taken in our antique sleigh. Pre-registration is required. Please contact Joanne Landau at jlandau@tylerarboretum.org or phone 610-566-9134 ext. 215.
• New Ark Chorale presents "Christmas Scenes," featuring Michael Larkin's world premier of  "Missa brevis for the Nativity" at St. Michael Lutheran Church at 3 p.m., Sunday, Dec. 8. There will be a reception with light refreshments following the program.  Suggested donation is $5 per adult and $2 per child under age 12. St. Michael Lutheran Church is on East Doe Run Road, just east of the traffic circle on Route 82.
• Join the director of the Brandywine River Museum for a special event at the Hotel du Pont, at 4 p.m. on Dec. 11. Tom Padon will discuss N.C. Wyeth, including how he settled in the Brandywine Valley, his influence on other artists, and the collections at the museum and the hotel of work by the artist. This is the third lecture in a series celebrating the centennial of the hotel. The cost of the Speaker Series presentation is $65 per attendee, and includes a champagne & hors d'oeuvres reception, lecture, and Q&A session.  For more information and reservations, please call the Hotel du Pont at 302-594-3154.
• The Delaware Museum of Natural History is offering kids (and parents) a break from the hustle and bustle of the holiday rush with Holiday Nature camp on Saturday, Dec. 14, from 10 a.m. to 4 p.m.

 Campers at Holiday Nature Camp will create festive crafts inspired by nature, play games, and venture outdoors to track down winter animals before exploring our special exhibit, Ice Age Imperials! 
The museum will also host a day of "Savings & Songs" on Dec. 14 with member discounts in the Museum Store and the Hopewell Elementary School choir performing throughout the galleries. In addition, visitors can participate in a dinosaur-themed wreath-making activity. Visitors are encouraged to visit www.delmnh.org for the full lineup of holiday programming. Admission is $40 for members, $45 for nonmembers. For more information, call 302-658-9111 or visit www.delmnh.org
• Times Square has a ball drop to bring in the new year, but Kennett Square will now have the Mushroom Drop. The first-ever Mushroom Drop — with a 8 foot-by-7.5 foot mushroom — is scheduled for this New Year's Eve. It's part of the main event for Midnight in the Square, a new event in the borough. There will be music, food, and fun for everyone from 9 pm on Tuesday, Dec. 31 to 1 a.m., Wednesday, Jan. 1. All events are on Broad Street and in the American Legion Building, between State and Cypress streets. Admission is the donation of a non-perishable item or canned good. All donations will be given to the Kennett Food Cupboard.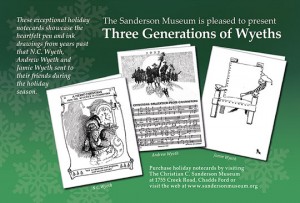 • The Christian C. Sanderson Museum in Chadds Ford presents a collection of holiday note cards entitled "Three Generations of Wyeths." The note cards showcase the heartfelt pen and ink drawings from years past that N.C. Wyeth, Andrew Wyeth and Jamie Wyeth sent to their friends during the holiday season.  Originals of the Wyeth holiday artwork sent to Chris Sanderson and his mother Hannah are proudly on display at the Sanderson Museum. Three note cards are available, one by each artist.  A box of 10 cards of one image may be purchased for $15 by calling 610-388-6545 or visiting the Sanderson Museum or through the museum Web site www.sandersonmuseum.com

See Contributors Page http://chaddsfordlive.com/writers/
Comments
comments