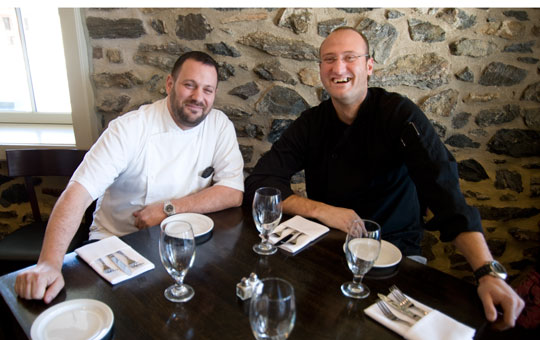 Josh Friedberg, one of the owners of Il Granaio in Concord Township, isn't afraid of competition. That's probably a good thing since Friedberg and his business partner, Gent Mema, opened their newest restaurant —Antica — in the old Bistro on the Brandywine just across the parking lot from Brandywine Prime in Chadds Ford Township.
And there's going to be more competition when Café Felini opens up across Route 1 from Antica.
That's all fine with Friedberg. He has a more the merrier attitude and thinks that competition will serve not only the patrons, but the restaurants, too. He even said that if his daughter wants a plate of spaghetti and meatballs, he's likely to choose Felini since the menus will be different.
"I like the competition," he said. "We're in the area an area of tourism and affluence. There's plenty of people looking to dine. People want something every night of the week. I'm going to fill part of that and I'm sure my competition from across the street will fill some of that and I'm sure my competition across the parking lot will fill some of that."
He said it's all a matter of what the diner wants to have that night.
"If people come to this area and say 'I don't know what I want for dinner,' they can come into old Chadds Ford and figure it out there," Friedberg said. "There are four restaurants right in the same area. We're happy with that."
He said Antica is it's own restaurant. It will be similar to how they run Il Granaio, but the concept and the menu will be different
They opened Antica in Chadds Ford last month and have worked out the new business kinks, Mema said, and things are moving smoothly and successfully.
In discussing the difference in menu items, Friedberg said they emphasize seafood and one of the specialties at Antica will be pulpo contadino, or poor man's octopus. It's braised octopus sautéed with beans and garlic and served with crustini. Friedberg calls it "two hands eating."
"It's a simple dish usually prepared in the seaside communities of Italy," he said.
The partners make homemade pastas at both of their restaurants, Friedberg said, including gnocchi and ravioli.
He added that the name Antica  — meaning antique in Italian — refers to the fact that the Chadds Ford area is rich with history and there are many antique shops on the area. "The name seems to fit."
Antica is a BYOB and Friedberg said that's part of the niche and that it's good for family and group dining because there's no liquor of wine prices to add to the cost of a meal.
"People will be more inclined to have an appetizer or dessert," he said.
Prices range $6 to $14 for lunch while the range for dinner is $11 to $27.
The restaurant is open for lunch and dinner Tuesday through Sunday. They close at 10 p.m. Friday and Saturday, but at 9 p.m. the other days.
Photo: Antica owners Josh Friedberg, left, and Gent Mema, say competition among restaurants is good for patrons and the restaurants, too. 

Rich Schwartzman has been reporting on events in the greater Chadds Ford area since September 2001 when he became the founding editor of The Chadds Ford Post. In April 2009 he became managing editor of ChaddsFordLive. He is also an award-winning photographer.
Comments
comments