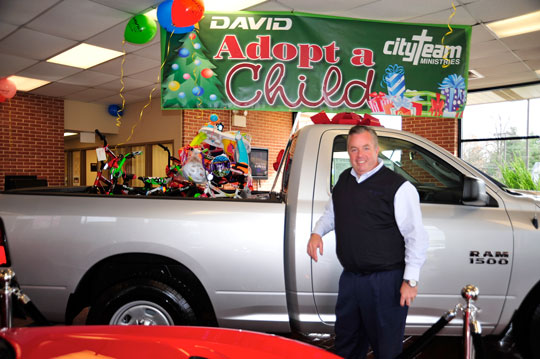 Giving back to the community is a natural for Dave Kelleher.
Kelleher — the owner of David Dodge on Route 202 in Chadds Ford Township — paid for shuttle buses to take people to and from the Chadds Ford Historical Society and the Brandywine Battlefield Park when Chadds Ford Days and Rev Times were held on the same weekend. Last year he offered to help pay for moving the Chadds Ford Vietnam Memorial if necessary. But he's also helped grow a charity that's less known in the Chadds Ford area.
In 2008, Kelleher got involved with City Team Ministries in Chester. He donated 80 coats to help keep children warm and that led to some food donations for that year's Thanksgiving. That all grew into what is now Adopt a Child.
Adopt a Child is similar to the Marine Corps Toys for Tots, but with a slight variation. Gifts given through Adopt a Child are targeted for specific kids.
"Toys for Tots takes any type of toy and then they try to figure out where the need is," Kelleher said. "Our program is different in that, one, it's Delaware County. What City Team Ministries does is put it out there to the people and families in Chester that if you have a need, you can register for the Adopt a Child program…So you really know that you're going to help a family that needs help," he said.
He said the families are fully vetted to verify their hardship condition to prevent any scamming. And the toy lists come the kids themselves.
"You're not just giving a toy to a cause, you've now taken on Damian. Damian's 11 years old, you know that and Damian wants skateboard and a scooter for Christmas. And then you provide," he said.
The program is also different because the child wrote the wish list thinking it was just to his parents and Santa. City Team then fills the wish directly, buying the gifts and giving them unwrapped to the parents who, in turn wrap the gifts for their kids.
The total need this year is 2,800, the number of families that are registered for this year.
Kelleher "adopted" 50 children that first year, he said, but the following year he enlisted the help of his employees and clients from an auto dealers' association.
"They came to the table like you wouldn't believe," he said.
The goal doubled to 100 and that goal has been met every year since. This year, though, he upped the goal to 300 and thinks they'll actually exceed 500.
The minimum requirement for people is two gifts per child, but people can do a monetary gift instead. The minimum for that is $50 per child, Kelleher said. That money goes in to a pool and Kelleher's mother does the shopping.
Even retailers are getting into the swing, he said. The Walmart on Conchester Highway gives a discount for the Adopt a Child program when Mrs. Kelleher does the shopping.
"My mother will go there and buy all the toys. It's a daunting task, but she'll fulfill all the requests…At $50 per child, I can easily take care of 20 children, but where my real power is to use my voice to make people aware of this," he said.
Kelleher was asked why he gets so involved. He chuckled and said a friend recently asked him if he was trying to buy his way I to heaven.
"That's definitely not it. Hopefully I'll get there on my own. The real thing is, I was raised in a family that understood sacrifice, understood tough times and we always made it through together. I've worked very hard, but with that I've had a great deal of blessings. Somebody has watched out for me and I think I have a duty to pay it forward," he said.
The deadline to sign up and to get involved in Adopt a Child is Dec. 6. There are forms available at David Dodge, but people can also signup by visiting drivedavid.com

Rich Schwartzman has been reporting on events in the greater Chadds Ford area since September 2001 when he became the founding editor of The Chadds Ford Post. In April 2009 he became managing editor of ChaddsFordLive. He is also an award-winning photographer.
Comments
comments