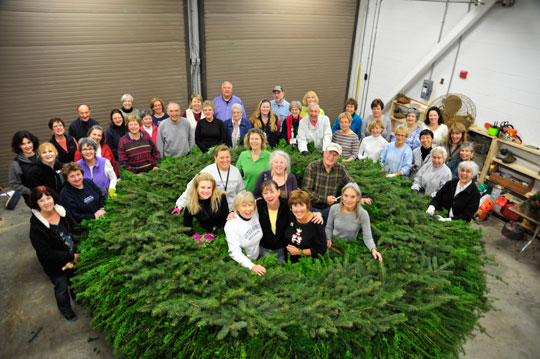 • It's that time of year again when dollhouses, critters and O-gauge model railroads take over the Brandywine River Museum. The annual Brandywine Christmas begins Friday, Nov. 29 and runs through Jan. 5. The railroad display has more than 1,000 pieces with trains running on nearly 2,000 feet of track. In other parts of the museum, there will be dozens of rare antique dolls dressed in beautiful period clothing and thousands of whimsical Critters (ornaments and decorations handcrafted by Brandywine Conservancy volunteers from natural materials) displayed on towering trees soaring up through the museum's three-story rotunda. The annual Critter sale itself takes place Saturday and Sunday, Dec. 7 and 8. (Photo above: Brandywine River Museum volunteers make the annual wreath that will adorn the museum's outer wall this holiday season. The wreath is 18 feet in diameter and is made from yew and blue spruce.)
• The Chadds Ford Gallery hosts its 32nd annual Christmas in Miniature beginning Wednesday, Dec. 4, through Dec. 31. More than 80 artists will have their work on display. Some of the pieces this year will be more than miniature.
• The Kennett Square Resale Book Shoppe will be hosting a book signing on Friday, Nov. 29 from 11 a.m. – 3 p.m. Local author Gerard J. Medvec will be available for signing copies of his new books "Ghosts of Delaware" and "UFOs Above PA." Book copies will be on sale for $17. The Book Shoppe is located at 113 South Union Street and their phone number is 610-444-6069. Their normal hours of operation are Monday through Saturday from 10 a.m. – 4 p.m. All proceeds benefit the Kennett Area Senior Center.
• The Brandywine Battlefield Park will host Patriots' Day Saturday, Nov. 30, from 9 a.m. to 4 p.m. Featured during the event will be Gen. George Washington, free black teamster Ned Hector and members of the 9th PA Light Infantry, 3rd PA Light Infantry and 1st Delaware Regiment. At 2 p.m. there will be a talk by Gen. Washington followed by a question and answer period. Admission is $8 for adults, $7 for seniors and $6 for children.
• The Unionville High School Community Coat Drive is underway and is collecting new and gently used coats, jackets, hats, gloves, mittens and snow pants. All items should be clean and in good condition. Donated items can be dropped off in the lobbies of any Unionville-Chadds Ford School District schools until Thursday, Dec. 19. This is a great opportunity to clean out your coat closets and to help a worthwhile cause. For more information, please contact mscharr01@gmail.com or diplacido6@verizon.net.
• Brandywine Ballet Company dancers are coming to the Brandywine River Museum at 10 a.m. on Saturday, Nov. 30. Dancers will greet families as they tour the holiday doll exhibition and make ballerina themed crafts. Member cost is $6 per person; non-member cost is $12 per adult and $8 per child, includes museum admission. Tickets are limited. Reserve online or by calling the museum shop at 610-388-8326. The company will perform The Nutcracker and host Nutcracker Teas in December. For times and tickets, visit www.brandywineballet.org or call 610-696-2711.
• The Kennett Area Senior Center sponsors a presentation from the SeniorLAW Center on Tuesday, Dec. 3, from 11 a.m. to noon. The SeniorLAW Center's Enhanced Services Program will prepare personal planning documents, including simple and living wills, financial and health care powers of attorney, and probate/estate administration services. This low-fee program serves qualifying seniors age 55 and over. The SeniorLAW Center is the only legal services agency in Pennsylvania dedicated exclusively to serving senior citizens. They will also be providing a Help Line (staffed by attorneys specializing in senior legal matters) for those who attend this session. For more information, call 610-444-4819 or visit www.kennettseniorcenter.org.
• Concord Township will hold its annual tree lighting and photo with Santa on Friday, Dec. 6, from 6-8 p.m. at the Concord Community Center, 43 Thornton Rd. Make traditional reindeer food, write a letter to Santa, enjoy cookies and milk, listen to carolers, and make a craft.
• The Delaware Museum of Natural History will celebrate the 2013 holiday season with special programming, including local choir performances in the museum's galleries and a festive breakfast with Mrs. Claus. The celebration begins on Saturday, December 7, with "Merry Munchies at the Museum," where visitors can have breakfast with Mrs. Claus, enjoy a visit from Santa, and explore polar animals including the Polar Bear (Ursus maritimus), Reindeer (Rangifer tarandus), and the Arctic Fox (Vulpes lagopus). On Sunday, December 8, the Museum will have harpist Deb Mackie performing from 1-3 p.m. and celebrate a Festival of Lights in Nature highlighting animals that bioluminesce, or make their own light. Holiday programing runs through Dec. 28. For a full schedule and admission information, or call 302-658-9111.

See Contributors Page http://chaddsfordlive.com/writers/
Comments
comments