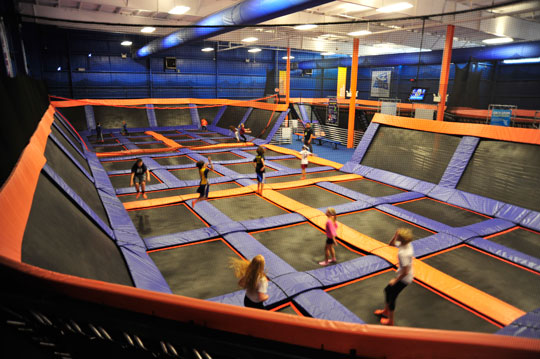 Is fitness possible just by jumping up and down? Phil Stoops is banking on it.
Stoops is the vice president of Sky Zone in Concord Township, the newest trampoline park franchise in the region. The 16,000 square foot bounce-a-rama opened its doors on Nov. 14 for kid-type fun even for adults.
"Sky Zone is active fun," Stoops said.
It's easy to see children reacting well to the park with its multi-area activities including dodge ball and a foam zone with 9,000 square cubes of foam. There's also an area with basketball hoops and an open jumping area.
According to Stoops, it's perfect for birthday parties and even for adult fitness.
"It's active fun for any lifestyle and any age group…Kids, obviously, are jumping. They're active; they're moving all the time. There are no video games in our facility. It's all about the activity…We also offer adult fitness classes called 'skyrobics' that can burn up to 1,000 calories per hour," Stoops said before the start of opening ceremonies featuring local and state politicians as well as Philadelphia sports reporter Howard Eskin who lives in the Glen Mills area.
State Sen. Dominic Pileggi, R-9, of Chester, called it a "great concept," while Garnet Valley School Superintendent Marc S. Bertrando said, "This gives kids a chance to do something healthy."
The idea for Sky Zone started in 2006 in Las Vegas. It was designed as part of a new sport that never took off, but a nearby skate park picked up on the notion, Stoops said. The first park operating under the Sky Zone name opened in St. Louis, Mo. The company then began franchising. Sky Zone Glen Mills is the 47th franchise and is the first in Delaware County.
Even before the opening, the folks at Sky Zone on Conchester Road had booked more than 200 birthday parties.
Hours of operation are Tuesday to Thursday 3-8 p.m., 3-11 p.m. on Friday, 10 a.m. to 11 p.m. on Saturday and Sunday 11 a.m. to 7 p.m. Sky Zone charges by the time frame, 30, 60, 90 or 120 minutes. Stoops said the most popular jump time is one hour and the charge for that is $16. That includes the special "sky socks" that all jumpers wear.
No other equipment is needed. "Just come in and have a good time, get your socks and have a blast," Stoops said.

Rich Schwartzman has been reporting on events in the greater Chadds Ford area since September 2001 when he became the founding editor of The Chadds Ford Post. In April 2009 he became managing editor of ChaddsFordLive. He is also an award-winning photographer.
Comments
comments