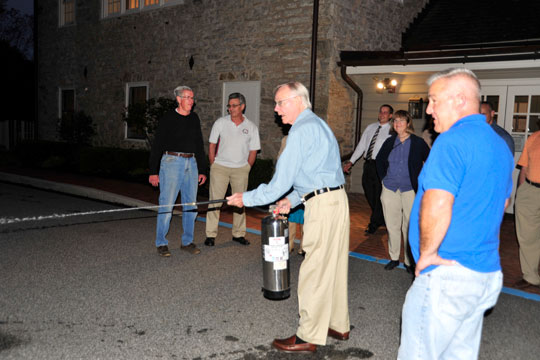 Chadds Ford Township Fire Marshal Michael Daily gave members of the Citizen Emergency Response Team a brief refresher course in fire safety during the group's recent quarterly meeting.
He also gave a brief demonstration on using a fire extinguisher.
Daily said people need to keep a fire extinguisher on all floors of their home, not where the fire is likely to start, but near the exit from that floor. After pulling the pin on the extinguisher, he said, aim the hose at the base of the fire as you make your exit.
Multi-purpose ABC fire extinguishers — capable of handling wood, grease and electrical fires — can be purchased at stores such as Home Depot and Lowes, he said, and added that he can take old expired extinguishers and dispose of them properly. Residents just need to bring their old units to him at the township building.
Daily also advised people to have a plan in case of a fire at home. Every member of the household needs to have two plans of escape from every room, and they need to know where to meet up outside.
The fire marshal said he would also present the fire preparedness information during the next Board of Supervisors' meeting, scheduled  for 7 p.m., Wednesday, Oct. 2.
CERT was formed last year and the Sept. 24 meeting was the group's sixth session. Members have mailed out File for Life packets with magnetized material so that people can write down their medications, slap that on a refrigerator door so emergency responders can find the information if needed.
Cert is also working on a Code Red program so that residents can receive a broadcast message from the township in case of an emergency. Those messages will be sent to telephones. The township can get the home numbers from the telephone company, but residents need to provide their cell phone numbers if they want messages to go there.
Photo above: Township Supervisor Keith Klaver takes aim with a fire extinguisher as part of a demonstration by Fire Marshal Michael Daily.

Rich Schwartzman has been reporting on events in the greater Chadds Ford area since September 2001 when he became the founding editor of The Chadds Ford Post. In April 2009 he became managing editor of ChaddsFordLive. He is also an award-winning photographer.
Comments
comments