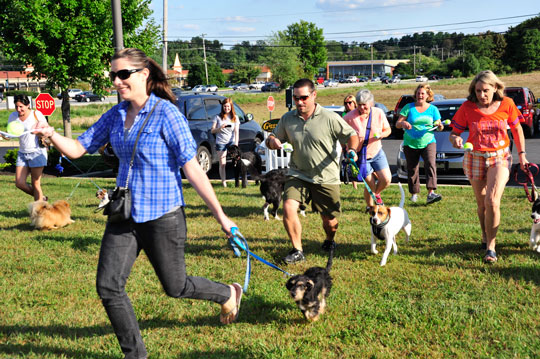 When man and animal work together, the rewards can run deep.
That's the case with Nancy Simons of Pennsbury Township when she and her 6-year-old greyhound rescue Sweet Pea work with children.
The two are a team volunteering with Paws for People, a pet-assisted visitation service in the Delaware Valley, visiting schools and hospitals to work with children.
"I think [my reward] is to see a child's face brighten up when they're reading to my dog when they're not very good readers and people are constantly correcting them, they have to go for help. Sweet Pea doesn't ask for any of that. I don't correct; we don't correct. At the end, even though a child may struggle, to see their little faces light up when they finish that book and to get a little reward is everything," Simons said.
Simons — an adoption representative for Keystone Greyhounds — and Sweet Pea have been volunteers for 18 months and Simons said her dog has learned to work with the crowd. A blanket is spread on the floor and the kids sit next to Sweat Pea.
"She's learned that if she rolls over and exposes her belly, the kids will rub her belly while they're reading. They have one hand on the book and one hand on Sweet Pea and she loves that. And it's gratifying to me to see her relax because that just calms the whole room down," she said.
Simons, Lundstrom and a host of others were attending Yappy Hour, a casual event hosted by GiggyBites in Olde Ridge Village. Stephanie Rossini, GiggyBites owner said the event was simply in Honor of National Dog Appreciation Day. There was music, games and food — for people and the dogs. Paws for People is a frequent beneficiary of events at the shop.
There are certain requirements that the dogs and their owners have to go through before they can be certified as a therapy team, according to Blythe Lundstrom, the director of community relations for Paws for People.
Teams have to pass a Standards of Excellence test, beginning with basic obedience tests, then to see how the dogs react to noises and being approached and touched by strangers.
There is also advance training within a year of initial certification and a master's level after that set up for those teams that would go to the DuPont Children's Hospital. There is also retesting, Lundstrom said.
There are now 360 certified therapy teams in Pennsylvania, Delaware, Maryland and New Jersey that visit 160 sites. Paws for People has been operating for eight years.
Lundstrom said they began with a dozen teams that visited assisted living facilities and libraries, but has grown. The staff has grown from two to eight people, but the teams are all volunteers.
To learn more about Paws for People, or to become a volunteer, go towww.PAWSforPeople.org and then fill out the forms. An intake coordinator would then phone within 72 hours letting people know when the next training sessions begin.

Rich Schwartzman has been reporting on events in the greater Chadds Ford area since September 2001 when he became the founding editor of The Chadds Ford Post. In April 2009 he became managing editor of ChaddsFordLive. He is also an award-winning photographer.
Comments
comments