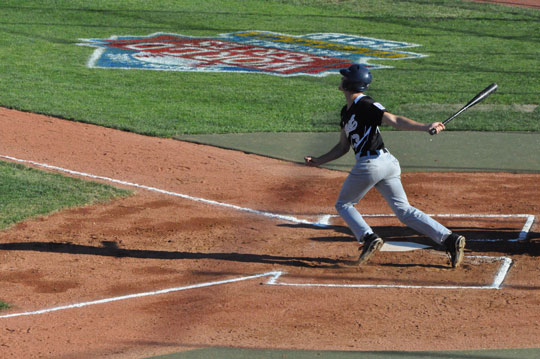 The KAU 16 U All Stars broke the ice in their first game of the Senior League World Series game Sunday against Laredo, Texas as Andrew Jones went the distance scattering 6 hits and giving up 2 runs against a very energized and speedy Laredo, Texas team.
Early in the game, Laredo wanted to slap the ball and use their speed to get base runners. However, while Andrew Jones may not have had his best stuff, in a game where he did not strike out a Texas batter, he mixed things up with fastball and change up recording 11 ground balls outs of the 21 outs in the game.
Defensively, the infield was flashing leather all night long led by Eric Takousian who recorded six of the ground ball outs at shortstop often times just nipping speedy runners at first base. In addition, Tucker Reese who has had an outstanding post season at third base carried things over into the World Series in which he dove snared a ball from going through the hole, got up, and fired across to Joe Zirolli to nip a runner at first base.
On that note, while it is somewhat unusual to recognize a first baseman defensively, Joe Zirolli took a hit away from a Laredo, Texas player who hit a line drive. He also came up big in scooping an errant infield throw, which could have led to at least one Laredo run late in the game.
With respect to offense, against a strong Laredo pitcher, KAU broke through in the top of the third inning when Drew Jarmuz led off and hit a towering ball one hop off the left field fence for a Double. Thereafter, Alex Pechin had an outstanding sacrifice bunt on a very challenging inside fastball that almost hit him, moving Jarmuz to third. The next batter, Eric Duerr, hit the ball hard back near second and while he was out at first, his timely hitting led to an RBI and KAU's first run going on top 1-0.
After Laredo scored in the bottom of the third to make it 1-1 KAU broke through again in the top of the fourth inning. With 1 out, Andrew Jones got things started with a single, followed by another hit by Eric Takousian. With runners on first and second, Dan Garver hit a well place grounder between third and the mound in which while he was thrown out, runners were able to advance to second and third. With 2 outs and second and third Jake Freeman hit a huge line drive single and advanced to second on the outfielders throw, driving in two runs making it 3-1 KAU.
After Freeman, Drew Jarmuz hit a hard ground ball off the shin of the 3rd baseman (scored an error) that bounded deep into foul territory and Jake Freeman kept steaming around 3rd to score KAU's fourth run.
Later in the game, Laredo Texas was able to scratch out their final run with a soft double and single.
For the game, Jake Freeman was 2-3 and 2RBI's, Eric Takousian was 2 for 2 and got on base a third time when he was hit by a pitch in the 2nd inning.
On Monday, KAU topped Italy 11-1 in a game shortened to 5 innings due to the 10 run rule.
In the first inning Jarmuz got things going with a lead off single and after 1 out Duerr hit a double up the right center field alley scoring Jarmuz who raced all away around from first base. Thereafter, Tucker Reese was hit by a pitch, followed by singles from Jones, Eric Takousian (RBI), and Dan Garver (RBI) brought home 2 more runs to make it 3-0 KAU.
Moving on to the second inning, Jarmuz led off with a single followed by a walk to Alex Pechin. After the second KAU out, Tucker Reese delivered Drew Jarmuz home from second with the fourth KAU run.
KAU added to the score, leading 9-0 after four innings. After giving up 1 run to Italy in the top of the fifth, KAU finished the game with 2 runs in the bottom of the inning to end the game 11-1.
Submitted by Coach Chris Jarmuz

See Contributors Page https://chaddsfordlive.com/writers/
Comments
comments