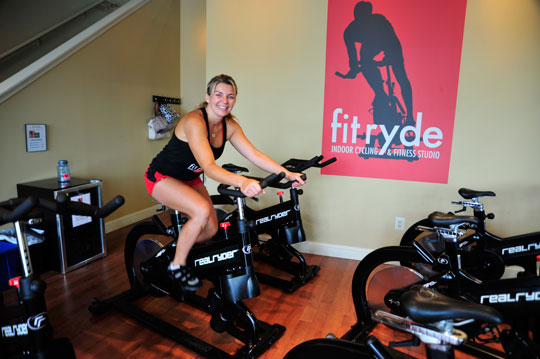 Finding a fit place to ride can be a problem for bicyclists. The country roads in the greater Chadds Ford area make for a picturesque ride as long as cyclists are prepared to put up with impatient motorists. But what about inclement weather or riding simply for fitness?
Riding has changed over the years. Gone are the days of kids pedaling down the street in those old tank bikes with no gears, using only footbrakes and not wearing a helmet. And stationary bikes now take a backseat to training devices that tilt and lean just like the real thing.
And that's where Erica Burns comes in. Burns is the new owner of FitRyde, between Fisher's Carpet One and Pioneer Urgent on Route 202 in Chadds Ford Township. In the corporate world she sold software, but has been a certified trainer for the past 10 years.
Burns bought the business in February and has set out to establish, what she calls, "a culture of fitness and friendship."
The first thing she did, she said was to buy more of the newer bikes that tilt, lean and move. Burns said those bikes give a more dynamic workout. She also added studio space and put together a training regimen that works for all levels of riders, from the 19-year-old college students to the over 62 crowd.
She said cycling is a great way to cross train and is especially beneficial for former runners whose knees can no longer take the pounding of running. Cycling is low impact where knees are concerned.
"That's why I'm so excited. I have students from West Chester University and the University of Delaware all the way up to seniors. So much so that I've developed a seniors' 62-plus unlimited package. I do think I'm making a difference," she said. I'm not just pushing a product. I'm pushing something I believe in."
She said a lot of her seniors are telling her that their blood pressure and cholesterol levels have improved since they've been training with her at the studio.
"I also have the mommy crowd," said Burns who is, herself, a mother of three. "They love that I'm a mother and say, 'If you can shed the baby weight, so can I.'"
What aids in the fitness from cycling is the newer models with the extra movement of tilting and leaning. Burns said those extra motions make training more life-like and forces the rider to use abdominal and upper body muscles in ways that the older stationary bikes never could.
They are "absolutely" better for fitness, she said. The older style opened people up to lower back injuries because those bikes don't move with the rider and the riders tend to over compensate. But, the movement of the newer models takes the pressure off the lower body.
"You're getting the movement. You're engaging your core. You're working your upper body and it's more natural," she said.
With the core and upper body engaged, it becomes more of a full body exercise, not just a cardio or leg workout.
"Here, you're building muscle and you're toning and working those core muscles that are so critical in just walking."
As for the weight loss factor, Burns said a 45-minute workout at her studio can burn, on average, 500 calories or more depending on the effort put in.
The bikes can also be adjusted to create varying levels of resistance. Burns sees that as an advantage for her because she can have a variety of students in any given class session. There's no need to separate the younger crowd from older riders. Everyone can do the same class by using different resistance.
"You control the resistance and that means you get the workout that's specific to your needs."
FitRyde offers 28 classes per week beginning as early as 5:45 a.m. A single class costs $19 while unlimited packages cost $119 per month. Burns is offering 50 percent off the monthly fee for new riders through the summer. She's also offering a first ride for free.
For more information, visit www.fitryde.com or phone Burns at 516-425-3289.

Rich Schwartzman has been reporting on events in the greater Chadds Ford area since September 2001 when he became the founding editor of The Chadds Ford Post. In April 2009 he became managing editor of ChaddsFordLive. He is also an award-winning photographer.
Comments
comments