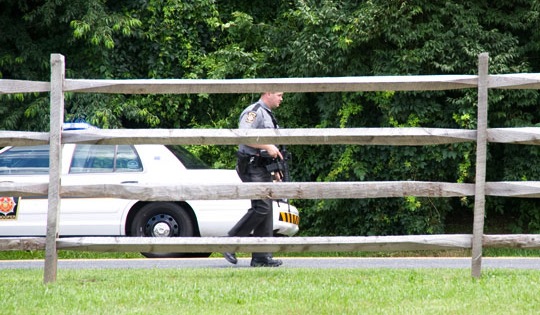 ***MISSING PERSON***
State police from the Avondale barracks are looking for Mary Margaret Sahm, 80, of West Nottingham. A report said she suffers from advanced Alzheimer's disease. She was reported missing about 3 p.m. on July 4. Sahm is known to walk around the neighborhood, but usually returns home within an hour or is brought home by neighbors. She is described as 5 feet 3 inches tall, 140 pounds with hazel eyes and gray hair. She was last seen wearing blue jeans and a gray sweatshirt. Anyone with information is asked to call police at 610-268-2022.
• A 61-year-old Chadds Ford man is the subject of a domestic violence investigation after he reportedly fired a shot into the ground at a residence on Creek Road. According to a police report, the accused and a woman got into a verbal altercation about 12:30 p.m. on June 29. The accused left the house and shot at kitchen dishes that had been thrown into the yard. At least six police cars — marked and unmarked — responded to the call, but first stopped at the wrong address. After being advised of the mistake, they drove farther up the road to the correct location. Armed troopers blocked traffic until the situation was resolved. (See photo)
After the incident, Lt. Tony Sivo, barracks commander for Troop K, Media, said troopers and other emergency responders have difficulty finding the correct location if addresses aren't properly marked on front doors or mailboxes or are otherwise not clearly visible from the street. He urges residents to have their addresses clearly marked.
• Unknown suspects stole $400 and wastebasket from a residence on Heyburn Road in Chadds Ford Township on June 27. Suspects forced entry through a back door sometime between 9 and 11:50 a.m., police said, but fled when the homeowner interrupted them.
• State policed are investigating the theft of about $85 from A Garden of Yarn on Ridge Road in Chadds Ford on June 27. According to police a white woman distracted an employee and her male companion took the money from the cash drawer. They then fled the scene in a green Plymouth heading south on Route 202 The man is described as white, about 5 feet 8 inches tall with a muscular build, bald head, heavy dark eyebrows and with tattoos on both arms. He was wearing a black T-shirt and black running pants. The woman is also described as white, about 5 feet 6 inches tall with a thin build but with a potbelly, possibly pregnant. She had a tattoo on the back of her neck of a broken heart with "Bellavita" written above the heart. She has long dark brown hair and has acne on her face. She was wearing a white tank top and black pants, the report said.
• A storage shed at a house on Walnut Ridge Road in Chadds Fiord caught fire when it was hit by lightening during a thunderstorm on June 24. There were no injuries, but the fire did cause an estimated $2,500 in damage.
• A motorist was cited for careless driving following a June 18 accident on Route 1 at Dickinson Drive in Chadds Ford Township. The cited motorist drove his car in reverse in the northbound lane of Route 1 after missing the right hand turn onto Dickinson, police said. The driver then struck another car that was making left turn on Dickinson from the southbound lane on Route 1.
• P.F. Chang's in the Brinton Lake shopping center was ripped off in the early morning hours of June 28. Police said two men gained access through the front door at 4:29 a.m., forcibly entered the manager's office stole $100 before trying to gain access to the safe. The men then fled in an unknown direction by unknown means.
• State police said U.S. currency was stolen from a home in Chadds Ford Township sometime between June 10 and June 14. The cash was taken from two safe boxes. No other details were given.
• Police made two arrests in one traffic stop in Chadds Ford on July 1. A police report said Robert Johnston, of Woodlyn, was arrested for DUI following a traffic stop on Route 1 at Creek Road at 2:11 a.m. A passenger, Maria Alicea Rodriguez-Gonzales, of Chester, was found to be in possession of drug paraphernalia, the report said.
• Birmingham Township police responded to 1,240 incidents during the month of June, with eight leading to criminal arrests, according to Police Chief Tom Nelling. He added that six cases remain open.
• Pennsylvania State Police will be conducting sobriety checkpoints this weekend, July 5-7.
See Contributors Page http://chaddsfordlive.com/writers/
Comments
comments