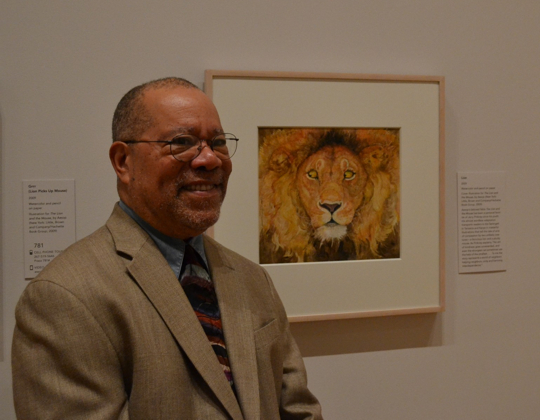 At the opening of Summer Splash, Philadelphia Museum of Art Director and Chief Executive Timothy Rub contrasted the liveliness of the new exhibit to the "button-down" insurance business that once occupied the space. Summer Splash is a group of five family friendly exhibits. The space is the Ruth and Raymond G. Perelman Building, which was built in 1917 by Fidelity Mutual Life Company and re-dedicated as part of the Philadelphia Museum of Art campus in 2007.
The family centered displays are Candy Coated Wonderland, Design for the Modern Child, Family Portrait, and All Dressed Up. The atrium is transformed to a studio where children can draw, sketch and sculpt.
The traditional part of this summer show is Witness: The Art of Jerry Pinkney. Organized by the Norman Rockwell Museum, the exhibit has something for all ages: folk tale illustrations, historical and biblical paintings and graphic design from Pinkney's artistic roots.
"At heart I'm a story teller," said Pinkney. His career has spanned almost fifty years punctuated with awards including the 2010 Caldecott Medal and the Original Art Lifetime Achivement Award from the Society of Illustrators.
Pinkney's illustrations of childrens' literature are full of delight and surprise. Both characters and animals generate empathy while portraying dignity.
Pinkney himself was delighted and surprised to find that the city of Philadelphia and the Commonwealth of Pennsylvania declared June 26 was Jerry Pinkney Day.  At the opening of his exhibit, June 28, he said he was looking forward to seeing the reaction of his friends and family.
Born in the Germantown section of Philadelphia Pinkney married to his high school sweetheart Gloria Jean. After graduating from Philadelphia School of Art, Pinkney started his career as a graphic designer.
Pinkney worked with writer Julius Lester to give a fresh look to the Tales of Uncle Remus.  Their work together grew because of their similar taste in of the selection of literature. Another collaboration, this time with his wife Gloria Jean resulted in The Sunday Outing. Pinkney enjoyed the fact that he had heard parts of the story, then to formalize them in a book was an interesting experience.
Of course, Pinkney couldn't work directly with Rudyard Kipling who died before Pinkney was born.  At first he was daunted by the descriptiveness of the prose in Rikki Tiki Tavi.  Eventually he excised many descriptions which he replaced with his illustrations.
The exhibit has some of his graphic design for book jackets and record album covers. The work combines figures, text and graphic elements in unexpected ways. Pinkney's portrayal of Gustav Mahler on an RCA album cover shows the composer's head similar to the exposed mechanism for a watch. The dramatic piece makes the viewer wonder what makes the artist and the composer tick.
Pinkney was inspired by size and liveliness of NC Wyeth's illustrations. In 2007 the Brandywine River Museum had a exhibit of Pinkney's illustrations of Aesop's Fables.
"Always rooting for the underdog, Pinkney continues to make images that bear witness to an underlying belief that all things are possible. Reaching beyond their aesthetic and conceptual underpinnings, his vibrant illustrations reveal larger truths about who we are and who we might become" according to Stephanie Haboush Plunkett Chief Curator of the Norman Rockwell Museum.
Upcoming events are WHYY interview with Jerry Pinkney on Friday Arts 8:30 p.m. July 5.  Pinkney will read and sign books Sunday July 7 from 10 to 12 noon at the Perelman Building. From 2 to 3 pm the same day, Pinkney and his wife will talk about growing up in Philadelphia and his artistic roots. For more information go to http://www.philamuseum.org/artsplash.
Witness: The Art of Jerry Pinkney will close in Philadelphia September 2 and move to the High Museum of Art Atlanta to open October 12.
(Top Photo: Jerry Pinkney in front of an illustration for his Caldecott winning book "The Lion and the Mouse" Photo Credit: Emily Myers)

Emily Myers has lived and worked in Chadds Ford for over thirty years.  She founded the parent company of Chadds Ford Live, Decision Design Research, Inc., in 1982.  ChaddsFordLive.com represents the confluence of Myers' long time, deep involvement in technology and community. Myers was a founding member of the Chadds Ford Business Association and currently serves on its board of directors.  Her hobbies include bridge, golf, photography and Tai Chi. She lives with her husband, Jim Lebedda, in Chadds Ford Township.
Comments
comments