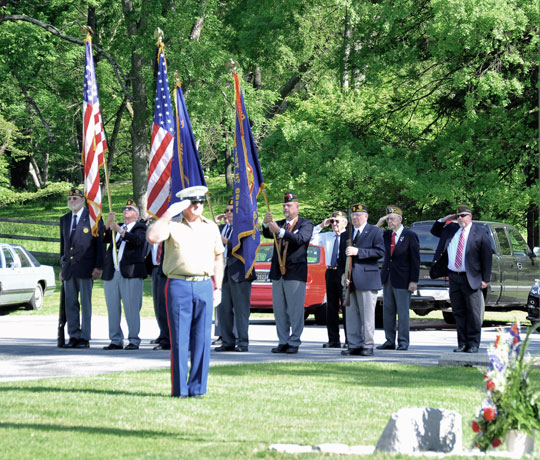 Brandywine Baptist Church, on Route 1 in Chadds Ford Township, kept its decades-long tradition Monday when it hosted the annual Memorial Day ceremony. The simple ceremony, with veterans and Boy Scouts serving as honor and color guards, includes placing flowers at the graves of U.S. military veterans in the church cemetery.
This year's speaker was Ray Coe, scoutmaster for BSA Troop 31 of Chadds Ford. Coe was a Purple Heart recipient for wounds received while serving in Vietnam. He attended with his father, Alfred, whom was a B-29 tail gunner in the Pacific Theater during WWII.
The gist of Coe's brief speech was that despite the fact that many more servicemen and women than ever before survive their battlefield wounds because of advances in medical treatment, more of those survivors are living with physical and emotional scars.
Most veterans have suffered silence, he said, citing a 30 percent figure of WWII vets. Coe added that it wasn't until combat veterans returned from Vietnam that post-traumatic stress disorder was classified as an actual illness. He said 15 percent of Vietnam vets suffer with PTSD.

Rich Schwartzman has been reporting on events in the greater Chadds Ford area since September 2001 when he became the founding editor of The Chadds Ford Post. In April 2009 he became managing editor of ChaddsFordLive. He is also an award-winning photographer.
Comments
comments