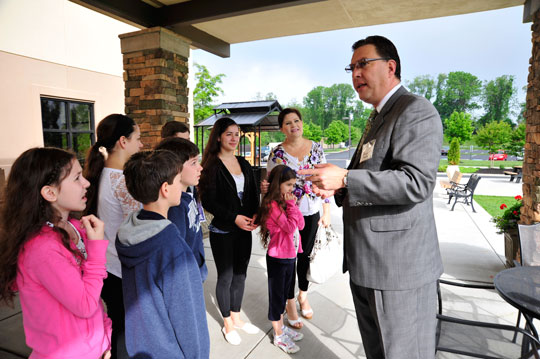 There were no surprises in the May 21 primary election, nor should there have been. None of the candidates seeking party nomination for supervisor or school board in the greater Chadds Ford region were challenged.
Voter turnout reflected the lack of competitive races. Polls were slow all day in Chadds Ford, Concord, Birmingham and Pennsbury townships. There were no lines at any polling location and in one Pennsbury precinct — with 627 registered voters — only 42 ballots were cast all day.
However, there will be some contested races come the general election in November.
In Chadds Ford Township, Republican Frank Murphy will face Democrat Rhona Klein for supervisor. Both were unchallenged in their primary bids.
In Concord Township, incumbent Republican Supervisors Dominic Cappelli and Elizabeth "Libby" Salvucci also ran without opponents, but Democrat Dan Foster will challenge Salvucci in November.
Salvucci was appointed to replace Colleen Morrone when the latter won a Delaware County Council race in 2011. There are still two years remaining in that term, but the Salvucci/Foster race will be for a six-year-term.
Cappelli, whose regular term expires this year, chose to file for the two-year term. He said he opted for two years because he's been involved with township government for a long time and isn't certain he wants to be on the board for six more years.  He added, however, that he could decide to seek another six-year term in 2015.
Birmingham and Pennsbury voters will have no options for supervisors in November. Scott Boorse, of Birmingham, and Charles "Scotty" Scottoline, of Pennsbury, both incumbent Republicans, secured their party nominations and have no Democratic Party challengers in the general election.
Also unchallenged are the four seats up for election in the Unionville-Chadds Ford School District. Incumbents Keith Knauss and Jeff Hellrung, of Region A, cross-filed and were unopposed in the primary, as were newcomers Michael Rock and Steven Simonson in Region B. All four are unopposed in November.
Rock and Simonson will replace Jeff Leiser and Holly Manzone who chose not to run for re-election.
For Delaware County Council, Democrats Bill Clinton and Patricia Worrell will face Mario Civera and David White in November.
There will be contested races for Common Pleas Court judges in Delaware County. Republicans Richard Cappelli and William Mackrides will go against Nancy Walker and Steve Chanenson.
For Common Pleas Court judge in Chester County, Democrats Anthony Verwey and Julia Malloy-Good will go up against Patrick Carmody and Jeffrey Sommer in the general election.
Photo: Frank Murphy, right, the Republican candidate for Chadds Ford Township supervisor, talks with current and future voters outside the polls on election day.

Rich Schwartzman has been reporting on events in the greater Chadds Ford area since September 2001 when he became the founding editor of The Chadds Ford Post. In April 2009 he became managing editor of ChaddsFordLive. He is also an award-winning photographer.
Comments
comments