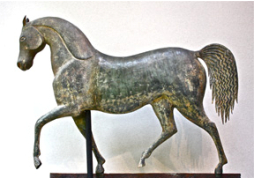 On view May 25 - July 28, 2013
Part scientific instrument and part architectural  ornament,
weathervanes roost over American buildings.
Viewed today as works of folk art, weathervanes originally functioned as useful tools for determining wind direction, particularly on farms and in maritime villages. They are also among the earliest examples of public sculpture in the United States.
 Weathervane forms run the gamut through history, beginning at the Tower of the Winds in ancient Athens, where the figure of Triton-cleverly designed to always face the direction of the wind-fittingly topped the structure. Taking their cue from Old St. Peter's Basilica in Rome, medieval builders increasingly topped church steeples with weathercocks.In America, colonial craftsmen fashioned unique and sometimes fanciful weathervanes by hand, such as the legendary grasshopper atop Boston's Faneuil Hall. Later in the 19th century, a wide variety of design forms to suit every whim could be mass-produced and offered through mail-order catalogues.The exhibition Which Way the Wind Blows: Antique American Weathervanes, which includes 28 weathervanes, spotlights a selection of the forms popular in this country, including several with equestrian designs. A spectacular local weathervane on loan from the Chester County Historical Society offers a unique opportunity to consider the weathervane as an integral part of an overall architectural plan, as it originally stood atop the cupola of the Chester County Prison. Other themes highlight finer points of interest to collectors, including finishes, manufacturers and matters of authenticity. Which Way the Wind Blows is on view from May 25 through July 28.

Exhibition Programs
Continental breakfast and tour of Which Way the Wind Blows 

Saturday, May 25

Breakfast at 9 a.m.; tour at 9:30 a.m.

Conservator Jennifer Mass will lead a tour of Which Way the Wind Blows and reveal the secrets beneath the surfaces of weathervanes. Mass is the senior scientist and director of Winterthur's Scientific Research and Analysis Laboratory, where she has studied some of the weathervanes on view in the exhibition. Using high magnification electron microscopy for examination at the molecular level, Mass is a leader in the exploration of weathervane finishes, a key element in the connoisseurship of these sculptural treasures.

"Wonderful Weathervanes" Family Workshop

Monday, June 20, 1 to 2 p.m.

Action News 6 ABC meteorologist Chris Sowers will talk about weathervanes and participants will make their  own wind-catching weathervanes. Free with museum admission.

Curator's Tour of Which Way the Wind Blows: Antique American Weathervanes

Wednesday, July 10, 2 p.m.

Amanda C. Burdan, assistant curator, will discuss the variety of forms popular in this country, as well as finishes, manufacturers and matters of authenticity.
Image caption: "Index Horse" weathervane, attributed to J. Howard & Co., Bridgewater, Massachusetts, ca.1850, copper and cast zinc, 20 x 24 inches, Private Collection.

Comments
comments