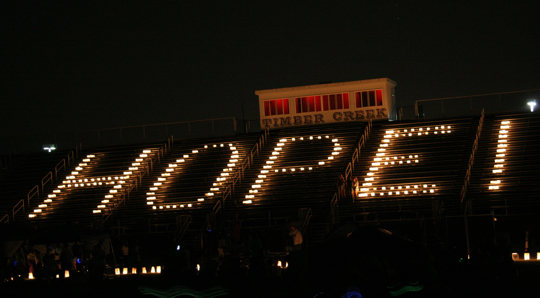 Sign up now! With only 4 weeks left until the Kennett/Unionville Relay For Life on June 7 and 8, it is time to register your team. Just go to relayforlife.org/pakennettunionville and follow the instructions.  Relay For Life is a great all-ages family event that raises money to help cancer patients and their families fight cancer and funds research to end cancer. The Relay, which is held at Unionville High School, starts at 6:00 pm on Friday, June 7, and continues nonstop all night until 10:00 am on Saturday, June 8. Go for the entire time and camp overnight, or attend any number of hours during the event.
"Last year we raised over $65,000," said Mike Zieg, chairman of the committee that organizes the Kennett/Unionville Relay For Life.  "We have been successful because so many community members want to end cancer after experiencing its effects in their families.  Our goal this year is to beat last year's total, and we need everyone who has been impacted by cancer to come out and join us."
Relay For Life is also a great opportunity to help celebrate the lives of cancer survivors.  Recent research we conducted with local survivors showed that they want to celebrate their victory with family and friends. If you know anyone who has survived cancer, invite him or her to join you in creating a team and come out to celebrate with us. Special recognition of survivors occurs on Friday evening, and all cancer survivors are welcome to attend whether part of a team or not.
The Kennett/Unionville Relay includes continuous laps around the UHS track, games, face painting, live music, picnicking and more. A recognition lap and dinner for survivors and their caregivers is held on Friday evening, and a beautiful lighting of luminaria recognizes those who have lost the fight against cancer and honors others who are still bravely fighting the disease. Details about the Relay For Life of Kennett/Unionville can be found at relayforlife.org/pakennettunionville and on Facebook at www.facebook.com/RelayForLifeOfKennettUnionville.

Comments
comments