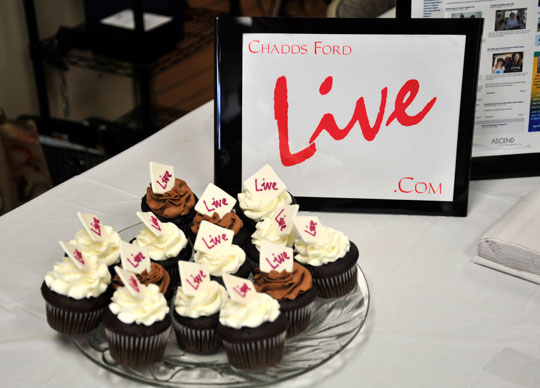 • Chadds Ford Live celebrated four years of service during an open house for members of Neighbors in Business hosted by Mike Bullinger of Slim & Fit in Springwater Plaza. A dozen businesses were on hand as was mascot Griffin Bullinger who had his eyes on some people food.
• The Chesco Pops will have two upcoming performances at the new Performing Arts Center at Unionville High School. The Unionville Chadds Ford Education Foundation and the Unionville Chadds Ford School District are presenting the concert series. Proceeds from the concerts going to the Pops and the Foundation. The first performance — "From Beethoven to Broadway" — is scheduled for 7:30 p.m., Saturday May 4. Tickets are $15 for adults and $12 for seniors (older than 62). Students and children are free. Go to www.chescopops.orgfor tickets.
• The Chester-Ridley-Crum Watersheds Association/Concord Township is looking for volunteers for the 16th annual CRC Streams Cleanup scheduled for May 4. Volunteers will meet at the parking lot across from Il Granaio Restaurant at 711 Concord Road. The cleanup will begin on the road side and bridge area; the group will then proceed down Concord Creek onto Newlin Grist Mill property. Any resident interested in volunteering, should contact Kristin Civitella at 610-812-3164 or kcivitella@gfnet.com Volunteers are invited to a free picnic at Pavilion 8, Ridley Creek State Park from 11:45 a.m. to 1 p.m.
• The Brandywine Ballet Company presents The Wonderful Wizard of Oz, a new full-length ballet as its 2012-13 season-culminating performance, May 3 - 5, at the Emilie K. Asplundh Concert Hall, 700 S. High Street in West Chester. Individual tickets range $25-$40. Tickets and a complete schedule are available by telephone a 610-696-2711 and on-line at www.brandywineballet.org. The Wonderful Wizard of Oz will feature world premiere choreography by Brandywine Ballet's resident choreographer, Nancy Page, who wowed audiences with her recent presentations of Beauty & the Beast and Dracula.
• Celebrate spring with the Brandywine Conservancy's garden volunteers at the annual Wildflower, Native Plant and Seed Sale on May 11 and 12, from 9:30 a.m. to 4:30 p.m. Conservancy staff and volunteers will be available to answer questions and provide planting and horticultural information. All proceeds from the sale benefit the Conservancy's diverse and beautiful Wildflower and Native Plant Gardens. Free admission.
• Tyler Arboretum's annual plant sale is scheduled for Friday and Saturday, May 3 and 4. Members will receive a special preview on Friday, May 3, from 11 a.m. to 7 p.m. The sale will be open to the public on Saturday, May 4 from 9 a.m. to 3 p.m. Admission is free to everyone for Saturday's event. Those who are not currently members can still take advantage of the preview sale and shop a day early by becoming a member of Tyler Arboretum at the sale on May 3. Tyler Arboretum's annual Plant Sale will be held rain or shine. For questions or more information, please call 610-566-9134 or visit our www.tylerarbortum.org.
• The Delaware County Veterans Memorial - Alice Grim Boulevard and West Chester Pike in Newtown Square, will hold a grand opening ribbon-cutting ceremony on Saturday, May 11 at 11 a.m. Speakers include: Tom Ridge, former governor of Pennsylvania and former secretary of Homeland Security, Tom Corbett, governor of Pennsylvania, US Rep. Patrick Meehan, from the 7th District, and others. Master of ceremonies is Benjamin Patton, grandson of Gen. George S. Patton Jr.

See Contributors Page https://chaddsfordlive.com/writers/
Comments
comments