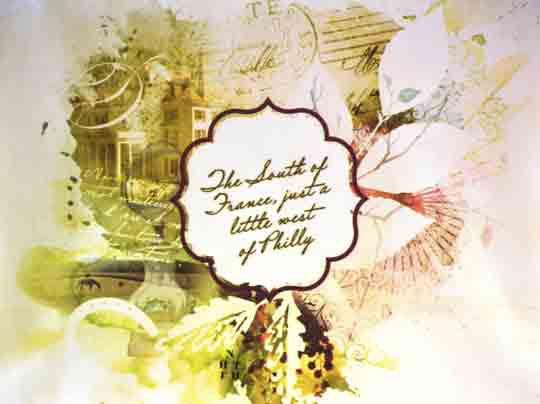 The Chester County Conference Center and Visitors Bureau now has a new logo and branding campaign. A stylized "bv Brandywine Valley" in wine green and maroon is followed by the tag line: "The South of France just west of Philly."
Dana Communications, the travel marketing firm, designed the new scheme that was unveiled at Longwood Gardens on Feb. 26.
Representatives from Dana said they developed the concept after talking with bureau officials and stakeholders. Key words that continually crept into the conversations were "wine," "equestrian," "artistic," "romantic," and "charm." Those words led to the European style of what will be the imagery of the new advertizing campaigns to be launched in Philadelphia and New York.
Bureau Executive Director Blair Mahoney said the effectiveness of the new branding campaign won't be known for sometime, at least not before the end of the year.
Mahoney also said the bureau could not have afforded the project had Chester County Commissioners not raised the room tax in hotels and motels in the county. The tax went from 2 percent to 3 percent.
"Our marketing budget wasn't enough," he said.
The bureau got the tax money from the county and used the funds to pay Dana.
Mahoney said the reason for the new branding was to keep the county's hospitality industry image fresh.
" A friend in the restaurant business once told me that no matter how good things are, every five years come up with a new scheme. The same is true for the hospitality industry," he said.
According to County Commissioner Ryan Costello, the tax brings in approximately $750,000 per year.

Rich Schwartzman has been reporting on events in the greater Chadds Ford area since September 2001 when he became the founding editor of The Chadds Ford Post. In April 2009 he became managing editor of ChaddsFordLive. He is also an award-winning photographer.
Comments
comments