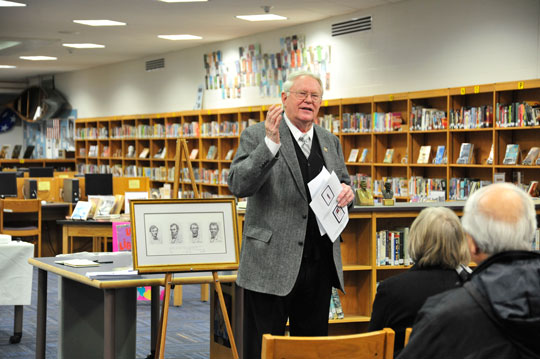 On hearing the name Joe Pitts, most people would think of the eight-term Republican U.S. representative serving Pennsylvania's 16th Congressional District. Others might know he spent more than five years in the U.S. Air Force serving as an electronics warfare officer on B-52s, flying more than 100 combat missions over Vietnam.
Fewer people, however, would know that his military experience led to Pitts becoming an artist.
Pitts, who also spent more than 20 years as a state representative, talked about his art during a Friday night gathering at the Unionville High School library, part of the Presidential Speaker series.
He told the crowd that he started painting while stationed at Westover Air Force Base in Massachusetts. He entered a poster contest and won a $50 U.S. Savings Bond, then won another $50 bond in a second contest.
"I've been painting since," he said.
Pitts added that his older sister is an artist whose work he always admired and that she encouraged him. He wants to keep active with his art, but said, "I really don't know what I'm doing. I'm a self-taught amateur."
While his artistry may have developed during his military service, only two of the pieces he displayed had anything to do with his time in uniform. One was scene of palm trees he did while at Anderson Air Force Base on Guam in the Mariana Islands. The other piece was of tall ships he saw in Boston while stationed in Massachusetts.
The bulk of the images — mostly oil paintings — were of Abraham Lincoln, who Pitts said is his favorite president.
"He stood up against all odds," Pitts said of the 16th president.
He also brought a painting of Ronald Reagan and several of the U.S. Capitol building. There were also sketches — one being a four-panel piece reflecting Lincoln's years from candidate through his presidency — a sculpture and two woodcarvings.
The sculpture, a bust of Lincoln, was done during a six-week class that Pitts took at the University of Delaware.
The painting of Reagan was done from a black and white picture, while many of the Lincoln images were based on the large statue at the Lincoln Memorial.
Pitts said he likes working in oils more than watercolors because "Watercolors are more difficult. I have to leave empty spaces. In oil I can paint over my mistakes."
As with many people who paint as an avocation, Pitts uses the art to relax. He also admitted to sketching during boring times at committee meetings.
He told a story of sketching Henry Waxman, a Democrat from California, during one such meeting. Pitts said he forgot the sketch when he left. An aide found it and gave it to Waxman. The Californian then called Pitts and asked him to sign the piece.
He wants to keep active with his art, but said, "I really don't know what I'm doing. I'm a self-taught amateur. I just enjoy relaxing and doodling."
Main photo: U.S. Rep. Joe Pitts, R-16, talks about his art during at Unionville High School. The image next to him is a four-panel sketch of Abraham Lincoln.

Rich Schwartzman has been reporting on events in the greater Chadds Ford area since September 2001 when he became the founding editor of The Chadds Ford Post. In April 2009 he became managing editor of ChaddsFordLive. He is also an award-winning photographer.
Comments
comments