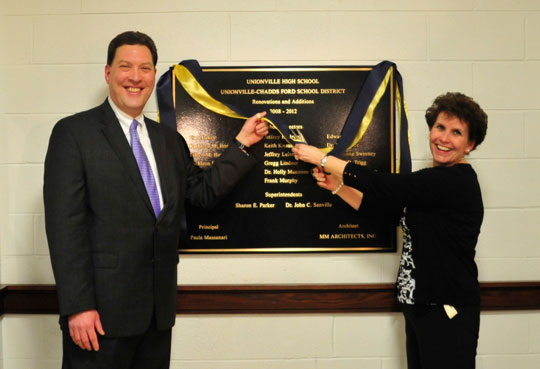 Perhaps Unionville High School Principal Paula Massanari put it best: "It was a joy to see everything we worked for come through."
She was talking about the almost four-year long renovation project that came in on time and under budget. Her comments came during a reception at the school, one punctuated with live music, cookies and punch.
The project that brought about revamped classrooms with improved safety features for science labs, a new gym and auditorium and other improvements, had been going on almost for as long as Massanari has been principal.
It was also controversial from the beginning. Twice voters said no to increased taxes requested through referendums. Money wasn't allocated until the school board found ways to generate the funds without a vote.
Construction caused disruptions, but now that the project is complete, the general consensus is that it was a needed job and one that was well done.
Massanari became principal in January of 2009 and the project started four months later.
"Every year, one of our building goals was that we would maintain a flexible attitude amidst everything that was going on around us," she said. "And our focus would always be on the needs of the kids in front of us and that we would work hard to show them that we were exercising patience and flexibility and that was our expectation of them."
She said the kids were "fantastic" about handling changes and distractions caused by the construction.
Massanari said she was prepared for the trials of having construction going on because she had put up with the same thing at her previous job in Great Valley. Still, she's glad it's all over.
"There was a time in the second year of the project when I did say, 'Wow, I'll be happy when this thing is over. The second year was really when all the interior renovations in existing space was going on and there would be times when a clock would be flying off the wall if they were jack hammering on the other side. We always had alternative spaces lined up so if there was too much of a distraction going on with noise or smells, we had a place where we could move kids so they could continue having a good learning environment," she said.
During a brief address, Massanari told the assembled crowd that schools need to keep students safe as well as meet educational needs. "The renovation allows us to do both."
Sharon Parker was the school superintendent when the project started. She attended the dedication and said it was all about students and the future.
"I am thrilled. There was a lot of work put into [the project], a lot of shared discourse and frisky moments, but we built this school not just for our children today, but also for the unborn. I'm envisioning today's students coming back with their children and grandchildren," Parker said.
She added that the community is stronger for the hard work. With all the angst and aggravation, the project was worth it.
Based on bids, the high school renovation was projected to cost $55.7 million. The final cost was $53.9 million.
During the years of the failed referendums, project opponents said they understood that some changes were needed for the sake of safety, but that a full-scale renovation would be too costly since C.F. Patton Middle School would also need work.
Current Superintendent John Sanville said a middle school renovation is still being looked at — as well as ongoing projects for all six school buildings — but there will be no details until Rick Hostetler, the director of buildings and grounds, makes a report this spring.
Several school directors indicated they felt another renovation project would be just as controversial and contentious.
Top photo: School directors Frank Murphy and Eileen Bushelow cut a ribbon on a plaque naming all the school directors since 2008 who were involved in the high school renovation project.

Rich Schwartzman has been reporting on events in the greater Chadds Ford area since September 2001 when he became the founding editor of The Chadds Ford Post. In April 2009 he became managing editor of ChaddsFordLive. He is also an award-winning photographer.
Comments
comments