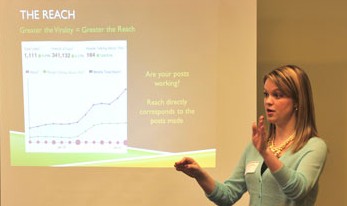 Going viral can be good for business according to Rosemary Kingery.  Buzz For Your Business is Kingery's company that helps business owners use social media to promote their products and services.
She said the spread of information on the Internet is similar to the spread of a virus because friends contact friends who contact yet more friends. Instead of the sickness that results from a real virus contact, information gone viral can be used to promote a business.
Social media, unlike traditional print and broadcast, invites participation, she said. The process of participation helps to spread the message.
The two main social media networks Kingery uses for her clients are Facebook and Twitter. She characterized Linkedin as more person-to-person professional networking.
Selecting messages to fit your audience is key to getting participation. She showed members of the Chadds Ford Business Association how to use the administrative section of Facebook to understand the demographics of your readers.
When a message hits the target, the reader is apt to "like" it, that is click the thumbs up icon. One client page where 1,111 readers "liked" the page, the reach by what Kingery calls "virality" extended to 341,132 people.
Kingery recommends that posts be conversational and friendly. Pictures also add to appeal of a post. She recommends daily posts.
Another strategy is posing a question. Kingery gave an example of asking readers to vote or to express preferences. One of her clients polled readers about their favorite sauce for chicken wings. The results provided the business owner with information about customer preferences and also gave exposure to the variety of sauces available.
Kingery was the guest speaker at Hilton Garden Inn in East Marlborough Township. The Hilton hosted the monthly meeting of the CFBA Thursday, Feb. 7.  Over half of the attendees indicated they already use social media.
Beth Alois, a Realtor for Prudential Fox Roach, posts to her business Facebook page once a week either with an article or new listing. The objective is to be "visible on the Web." Alois uses Facebook, Linkedin and Twitter in addition to her website to generate a dynamic business presence.
The Facebook connection can be less valuable for businesses that sell to other businesses. Mary Marines, president of Pennock Insurance, doesn't use Facebook for her company because her customers are insurance agencies not consumers. She has avoided Facebook because there is no obvious benefit for her company.
Marines uses Linkedin on a limited basis for professional connections.  "The insurance industry is pretty tight," she said, so there is less need for electronic networking.
Eric Adams, co-owner of Chester County Kitchen Cabinets, uses new and old techniques to sell his service.  Adams uses Google Ads for online marketing which "is very expensive."  He also uses a Chadds Ford business, Welcome Neighbor, that personally delivers his business brochure to residents when they move in the area.
According to a Wall Street Journal, Linkedin is viewed as the most useful social media as recorded in a survey of top executives of small businesses. Linkedin, at 41%, is followed by YouTube at 16%, Facebook at 14% and Twitter at 3%.
According to Kingery, Twitter is the one to watch. "It is the fastest growing social media." Over 20 million tweets, or short messages, were sent out during the Super Bowl.
The lure of free or low cost advertising attracts businesses. Pages and tweets are free. Paid advertising is can be added to attract readers to the free pages. Personnel is another potential cost. According to the WSJ survey, four in 10 businesses report having employees dedicated to social media.
Members stayed afterward to ask Kingery questions. The page may be free to set up, but the questions and answers showed expertise can be useful to make pages more effective.
Chadds Ford Live uses Facebook to post links to the weekly news updates and other happenings that aren't full blown stories but rather tidbits of information and pictures that might be of interest to readers.
http://www.facebook.com/pages/Chadds-Ford-Live/362580023626
Each week Chadds Ford Live "tweets" the news update.
https://twitter.com/ChaddsFordLive
Results of Chadds Ford Live reader  poll:  67% use Facebook for Personal use,  61% use Google, 56% use YouTube, 50% use LinkedIn, 44% use Facebook for business use, and 22% for Twitter.

Emily Myers has lived and worked in Chadds Ford for over thirty five years.  She founded the parent company of Chadds Ford Live, Decision Design Research, Inc., in 1982.  ChaddsFordLive.com represents the confluence of Myers' long time, deep involvement in technology and community. Myers was a founding member of the Chadds Ford Business Association and currently serves on its board of directors.  Her hobbies include bridge, golf, photography and Tai Chi. She lives with her husband, Jim Lebedda, in Chadds Ford Township.
Comments
comments