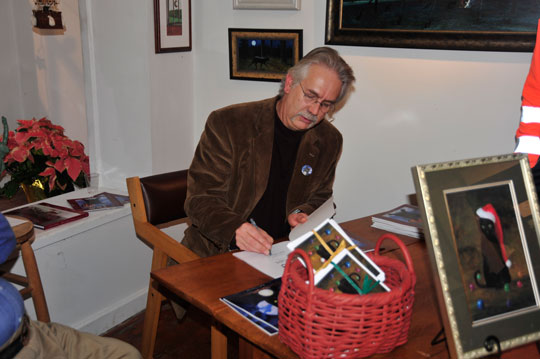 • Photo above: Chadds Ford artist Karl Kuerner signs copies of his book "Ike at Night" at the Chadds Ford Gallery on Saturday, Dec. 8.
• The Brandywine River Museum will host a winter solstice holiday performance by the Brandywine Valley Chorale at 7 p.m. on Dec. 21. For more information, call 610-388-2700 or visit the website at www.brandywinemuseum.org.
• Nutrition Retreat, in the Summit Crossing shopping center in the split on Route 202, will hold a two-day Family Fun Day on Saturday and Sunday, Dec. 22 and 23 from 8 a.m. to 3 p.m. Kids an make their own smoothies, get temporary tattoos and play "Holiday Twister." For more information call 610-358-1965.
• The Delaware Museum of Natural History's popular Dino Days return on Thursday and Friday, Dec. 27 and 28. This dinosaur extravaganza features a fossil dig, our Rainforest Adventure special exhibit, live animals from the Philadelphia Zoo, dino activity zone, special crafts and other programming. Visitors can uncover a Maiasaura skeleton at the fossil dig and search for a real fossil to take home at the end of their exploration. A paleontology scavenger hunt sends families around the Museum to look for different tools needed on an excavation. Along the way, kids can examine specimens at the fossil table and view live animals from the Philadelphia Zoo. Admission of $10 for adults, $8 for children (3-17), $9 for seniors, free for children 2 and younger includes access to Rainforest Adventure, a hands-on, multisensory expedition that introduces visitors to tropical rainforests around the world, highlights the challenges facing these unique ecological wonders, and suggests ways that people can make a difference.
• Local animal lovers can share their holiday spirit by donating food, toys and treats for homeless dogs and cats through Best Friends Pet Care's 12th annual Animal Angel Tree campaign. All donations will benefit the many pets awaiting homes at the Delaware Humane Association.
"The holiday season is always difficult for our local animal shelters," explains Dea Asher, manager of Best Friends Pet Care in Chadds Ford.  "This year, Hurricane Sandy has put an even bigger burden on shelters because so many lost and abandoned pets need help.  We know our Angel Tree program will make a difference for many pets in need."
The Animal Angel Tree in the Best Friends lobby is decorated with paper ornaments featuring photos and information about needy dogs and cats. Pet lovers can call to select a card from the tree and donate from the shelter's wish list for that dog or cat. All pets featured on the tree are available for adoption. Donations to the Animal Angel Tree program can be made at 3914 Pyle Road in Chadds Ford, or by calling 610-459-2724 before Dec. 31.
• Lice Lifters of Chadds Ford is teaming up with Be the Match (http://www.marrow.org/), the national bone marrow donor program, for a donor drive on Tuesday, Jan. 8, from 3 – 7 p.m. Men and women ages 18-44 can register with a simple cheek swab and brief medical history. For more information, contact Judy Young, 610-558-1434 or jyoung@licelifters.com

See Contributors Page http://chaddsfordlive.com/writers/
Comments
comments