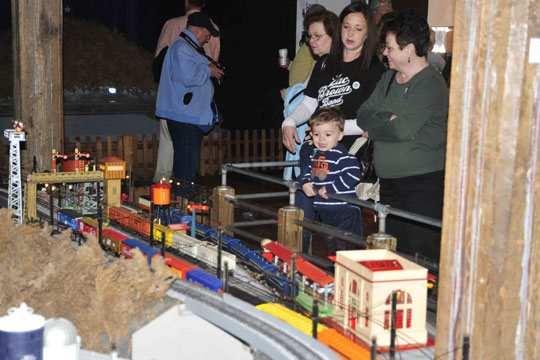 Steven Clarke is an adult who loves playing with trains and he's got a job that lets him do just that year round. Clarke is the man behind the annual model railroad display at the Brandywine River Museum's A Brandywine Christmas.
He's been taking care of the trains and running the display for the past 36 years, almost as long as there's been a model train display at the museum.
His background is English liberal arts, but he also has a background in commercial art and fine art. His hobby is history, but he loves the trains.
"I got this job out of college and I never found anything that I liked to do that paid as well. I used to do other things. I used to work at a hospital, worked for a news agency," he said.
It takes about five days — from Sunday through Thanksgiving Day — to put of the trains. There are roughly 2,000 to 2,500 feet of track and 1,000 cars cover an area that 61 feet long and 35 feet wide.
The six-week display is just the tip of the iceberg, the visible part of Clarke's job. The rest of the year is spent fixing what didn't work and preparing for the next year's Brandywine Christmas.
"Every piece of it has to be gone over carefully to minimize and eliminate as many problems as possible," he said. "By the end of the run, I have a list — four pages of legal paper — of everything that has to be done."
A multi-generational audience appreciated the efforts of Clarke and those who work with him.
Carolyn Callahan, originally from, West Chester, now lives in Wisconsin, but she comes back for the holidays and makes sure she brings her kids to the display that she enjoyed as a child. She said it's going to be an annual tradition.
"Absolutely. Our kids love trains and so do we," she said.
Her own memories focus more on the ornaments, but the trains engaged her as well. Now, however, she's seeing things through the eyes of her children.
"Seeing my kids light up when they see the trains, that's the most important thong for me.
A Brandywine Christmas also includes "critter" tree ornaments, jewelry inspired by the art of Andrew Wyeth and a display of pop up illustrations. It runs through Jan. 6.
Top photo: Kevin Callahan, 2, from Milwaukee, Wis., gets his first look at the O-gauge model train display at the Brandywine River Museum's A Brandywine Christmas.

Rich Schwartzman has been reporting on events in the greater Chadds Ford area since September 2001 when he became the founding editor of The Chadds Ford Post. In April 2009 he became managing editor of ChaddsFordLive. He is also an award-winning photographer.
Comments
comments