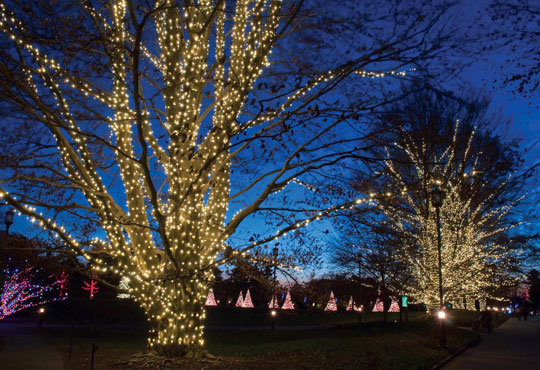 Longwood Gardens will put stars in your eyes this holiday season as the Gardens are transformed into a starry holiday wonderland through Jan. 6.  From towering trees adorned with star ornaments to a Music Room designed to delight any stargazer to more than 500,000 twinkling lights dotting the night sky, the beauty and magic of the holiday season await.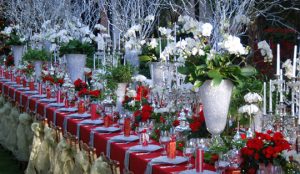 Floral Beauty at Every Turn
Inside Longwood's 4-acre heated Conservatory 10,000 seasonal plants, including poinsettias accented with amaryllis, lilies, begonias, cyclamen, and hydrangea flourish. Elegantly decorated trees shimmer and sparkle with festive, star-inspired ornaments, many handmade by Longwood staff. In Longwood's Exhibition Hall, twinkling lights hang from the vaulted glass ceiling over a 64-foot long table dressed for a spectacular holiday gathering. Throughout the Conservatory guests will encounter 28 decorated trees, some reaching as high as 22-feet, including unusual floral trees fashioned from poinsettias, hydrangeas and agave. More horticultural finery, including swags of exotic plants, Christmas cactus baskets, and living wreaths flourish throughout the Conservatory.
Outdoor Lights & Music
Longwood works its holiday magic outdoors, too. More than 500,000 outdoor lights adorning 74 trees in classical and free-style form styles enchant both young and old. The lighting extravaganza includes the addition of lighting Longwood's surviving American Elm, select trees in the eastern portion in the Gardens near the picturesque lake and a new fountain of lights in the Main Fountain Garden. Fountains dance day and night to holiday music in the Open Air Theatre (weather permitting) beneath glimmering starry snowflakes. Young and old will delight in Longwood's outdoor train display nestled near the Idea Garden as it travels past miniature Longwood landmarks lit for the holiday season. Natural edible ornaments adorn the Wildlife Tree created especially for Longwood's feathered and furry friends. The Gardener's Tree features ornaments crafted from garden findings, including gourds, seedpods, and cones.
Music is a seasonal highlight as holiday concerts in the ornate Ballroom include organ sing-alongs on Longwood's majestic 10,010-pipe Aeolian organ, and evening choral and bell choir performances by area groups. In Longwood's historic Chimes Tower, the 62-bell carillon plays holiday music every half hour. Strolling performances fill the gardens with holiday music at every turn on weekends. Most performances are included in Gardens admission. Specially ticketed concerts include: Irish ensemble An Nollaig in Eirinn with Danu celebrates a traditional Irish Christmas Sunday, Dec. 2, at 3&7 pm. Tickets are $40; $34 for members. Jazz guitarist, singer, and Ella Fitzgerald Award winner John Pizzarelli performs Thursday, December 6 at 8 pm. Tickets are $45; $38 for members. Specially ticketed events include Gardens admission.
On New Year's Eve, Longwood offers a variety of performances for the entire family. Organ music fills the Ballroom from 3-8 pm; Rob Dickinson and the Brandywine Christmas Minstrels perform from 2-8 pm; Barbershop Quartet Frank the Dog harmonizes throughout the conservatory from 6-9 pm, while the upbeat Parti Gras performs at the Peirce-du Pont house from 4-9 pm. The Wilmington Handbell Choir rings in the New Year as guests enter the East Conservatory from 4-9 pm.
Member Evenings
Please note Longwood will host special Garden Pass Member-only Holiday Evenings on Mondays through December 3, 10, 17 beginning at 5 p.m. Only Garden Pass Members will be admitted on these exclusive evenings.
About  Longwood  Gardens
Longwood Gardens is a 1,077-acre estate once owned by industrialist Pierre du Pont (1870-1954). He purchased the property in 1906 to protect a stand of trees that slated for the lumber yard. Du Pont turned what was once a farm into a horticultural showplace. Today, Longwood includes gardens, woodlands, meadows, fountains, a four-acre conservancy, and 10,010-pipe organ. The Gardens open daily at 9 am.  Complete information is available online at www.longwoodgardens.org.

Comments
comments