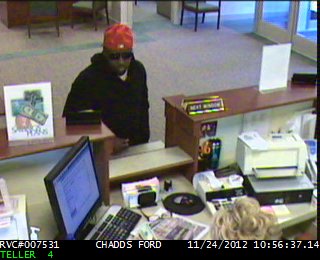 State police from Troop K, Media barracks are investigating a robbery at the Iron Workers Bank in Olde Ridge Village in Chadds Ford Township. The robbery happened 11:37 a.m. on Saturday, Nov. 24.
Police said they are looking for a black male, 25-35 years old, approximately 5 feet 6 inches to 5 feet 7 inches tall with a medium to stocky build. He was wearing a black hoodie, a red baseball hat and sun glasses. The actor implied that he had a gun but did not show a weapon. The police also report said the suspect left the bank with an undisclosed amount of cash, fleeing across Route 202 into Glen Eagle Square shopping center.
Anyone with information should contact Tpr. John O'Donnell at 484-840-1000.

See Contributors Page https://chaddsfordlive.com/writers/
Comments
comments