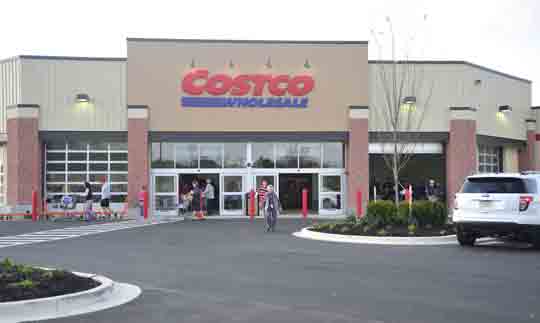 It may have taken a while, but the new Costco store in Concord Township is now open for business.
The official ribbon cutting, with the aid of state Sen. Dominic F. Pileggi and several of Concord's supervisors, took place at 7:45 a.m. on Saturday, Nov. 10. People were already waiting for the doors to open and there was a line outside for people who hadn't joined the warehouse club before.
Other Costco stores are near the Christiana mall in Delaware and the King of Prussia Mall in Pennsylvania. The new store saves area residents a trip.
Michelle Heim and her family of five recently moved into Thornbury Township from Nevada. She shopped at a Costco there, and grew to depend on the store for savings on bulk purchases. She was eager for the Concord store to open.
"I have three kids 5 and under. This is my sole diaper and wipe and everything supply store," Heim said. "We had to go to Christiana. I think it took me about two minutes to get here, today."
Heim added that she was "depleted" of all her baby needs and was looking to stock up.
Debbie Matsen was also looking forward to the new location. She joined only the day before the opening. It's a new experience for her and she was eager to start.
"I've heard a lot of great things about Costco. I can't believe I'm standing here waiting for Costco to open," she said.
Iree Winters, of Aston, was another of the several hundred early morning arrivals.
"We first came in contact with Costco when we were in Florida and we enjoyed shopping there very much. When we heard it was opening up here, we were really excited about it.
Virginia Guldi has been a Costco member for 17 years was, like the others was eager for the store to finally open. She shops for six people, her own family of four and her elderly parents.
Having the Concord store is "Awesome because Costco is a great corporate citizen and they're good to there employees. They have high quality at reasonable prices for their customers. It's an excellent addition to our neighborhood," Guldi said.
Concord Township Supervisor Dominic Cappelli said he was impressed with Costco's corporate policy of limiting its profit margin to 15 percent and passing the savings on to customers. He also commended the company for working with the township in changing the original plans to accommodate the supervisors' wishes.
Warehouse manager Howard "Randy" Randolf said the store has provided 140 new jobs for the region.
He also said the store is operating on holiday hours for the rest of the year. Hours, through December, will be 10 a.m. to 8:30 p.m. Monday through Friday, 9 a.m. to 7 p.m. Saturday and 10 a.m. to 6 p.m. on Sunday.
Costco Concordville is on Evergreen Drive behind the Shoppes at Brinton Lake and the Crozer Medical Center.

Rich Schwartzman has been reporting on events in the greater Chadds Ford area since September 2001 when he became the founding editor of The Chadds Ford Post. In April 2009 he became managing editor of ChaddsFordLive. He is also an award-winning photographer.
Comments
comments