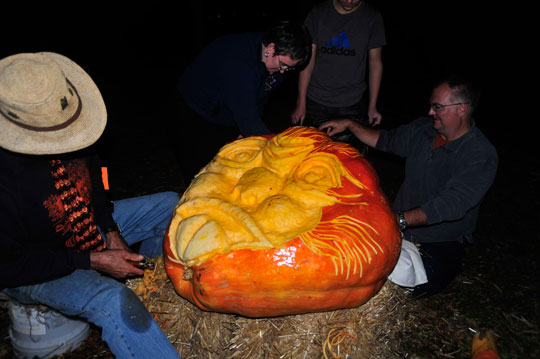 They came with their knives, chisels, saws and other tools of destruction. No one stopped them; there were no TSA agents at the gate. The pumpkins never had a chance.
It was the annual Great Pumpkin Carve, a major fund-raiser for the Chadds Ford Historical Society, the event that also benefits the Concordville-Chadds Ford Rotary. The Rotary raises money through food sales at the event.
Opening night was Oct. 25 when 68 carving teams went to work carrying on a tradition that began more than 40 years ago when local artists with the names of Lynch and Wyeth carved pumpkins on the steps of the old Chadds Ford Inn. As some informal historians have told the tale, the event eventually had to be moved because, one said, "The pumpkins got in the way of the drunks."
Since those early days, the Carve has been held in various locations including the parking lot of Hank's Place and of the Brandywine River Museum. The Carve eventually moved to the meadow behind the Barn Visitors' Center of the Historical Society.
As has been the case for years, the creations are judged and prizes, from Hunt Country Furniture, are awarded. A list of this year's winners can be found here.
And while the Carve is about bragging rights and helps out the CFHS and projects funded by the Rotary, the three-night event is also for fun.

Rich Schwartzman has been reporting on events in the greater Chadds Ford area since September 2001 when he became the founding editor of The Chadds Ford Post. In April 2009 he became managing editor of ChaddsFordLive. He is also an award-winning photographer.
Comments
comments