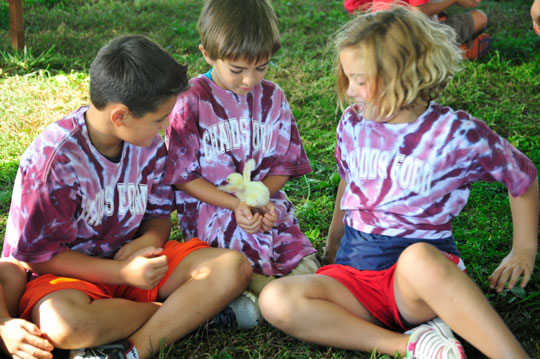 For students in the Unionville-Chadds Ford School District — especially the elementary school kids — the annual Unionville Fair offers an experience that the more urban students miss. Students get close up and personal with farming and farm animals.
"They get an experience in farming," said Ashley Keller, a first-grade teacher at Chadds Ford Elementary School. "They get to hold a 3-day old baby chick in their hands, something they'll probably never do again."
In addition to the chicks, students got a chance to interact with cows, llamas and alpacas.
What did the kids learn about the animals?
"They're fluffy and they smell," several first-graders said.
According to Danielle Fisher, another first-grade teacher at CFES, the experience at the fair relates to what the youngsters learn in class.
"It becomes a hands-on and real life experience," she said.
And while the kids aren't directly learning about farming in class —they're currently learning about weather — there are other lessons to be learned.
"It helps them follow directions and be social in an open atmosphere and a real life situation," said Fisher, adding, "It's also a fun experience."
The Unionville Community Fair has been an annual event for 88 years. It began as a simple corn show with young farmers showing off their various harvests. It grew and morphed into what is now one of 114 county fairs in the state and one of three in Chester County. Jayne Shea, president of the Unionville Fair Executive Committee, said Chester County is just too large to have only one county fair.
"We're a county version of the big farm show in Harrisburg. We take in between 3,000 and 3,500 exhibits, unlike the corn show, which was probably like 10 different entries of corn," Shea said.
The other two county fairs are Kimberton and Goshen.
While the Unionville Fair is not associated with the Unionville-Chadds Ford School District, it is open only to exhibitors from within the district. Shea said that's due to limited resources.
"We could not house exhibits from all of Chester County."
Shea said the fair raises money for the Chester County Food Bank, and a variety of service organizations that help out at the fair.
Top photo: First-graders from Danielle Fisher's class get to hold 3-day old baby chick. (Photos by Rich Schwartzman)

Rich Schwartzman has been reporting on events in the greater Chadds Ford area since September 2001 when he became the founding editor of The Chadds Ford Post. In April 2009 he became managing editor of ChaddsFordLive. He is also an award-winning photographer.
Comments
comments