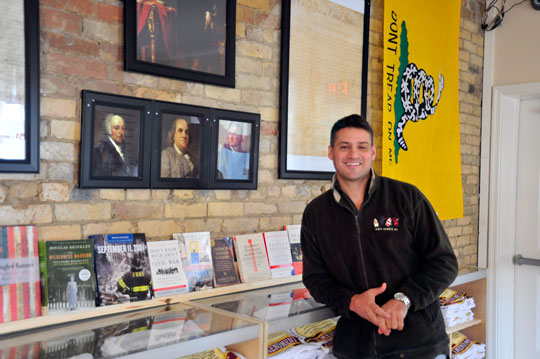 Jim Tillilie spent 20 years in the construction industry and is now seeking to celebrate all things Americana with Liberty Tree Outfitters, a new retail business in Chadds Ford Township.
Liberty Tree Outfitters is located behind the old Wawa at 1 Station Way Road —previously the site of a tack shop, frame shop and, most recently, a women's consignment shop. Now, it's the location of what started out as a store dedicated to "home preparation for the crazy tin hat people who think there's an economic collapse coming," he said.
Tillilie, who includes himself among those who think an economic collapse truly is coming, said the "tin hat" comment refers to people who, others believe, wear tin foil on their heads to protect themselves from solar flares and Martians.
As he developed the idea for the store, the concept changed to that of "an old time general store that celebrates all things Americana," he said.
Merchandise ranges from freeze dried food to camping equipment with bows and arrows to solar powered lights. In addition to the "prepper" (for preparation) items, the store also sells toys, candy, beer kits, Bill of Rights t-shirts and wine. Knives and ammunition are also available, but not firearms.
While the store is geared toward survivalists, it's more family-oriented and he sees it as a way to nudge kids toward becoming more independent.
"We're not hardcore, 'go out and live in the middle of the forest for the rest of your life' people," he said. "It's is more like a family outing sort of thing."
The t-shirts each have one of the first 10 amendments to the U.S. Constitution, while the beer kits contain premeasured ingredients for the home brewer.
Selling wine made for some bureaucratic hoop jumping. The wine comes from Auburn Road, a winery in New Jersey. Tillilie, from Upper Providence, can't make a commission on the wine sales. With a boutique license, he can only make money on the wine by renting space to the winery.
Tillilie chose Chadds Ford for his business because he likes the historical feel to the area.
"If we want to sell all things Americana, being only about a quarter-mile from the battlefield park is nice."
Tillilie is still in the construction business, but wants to try out retail, thinking it will be "more fun," he said. He wants to do something where people are actually happy to do business.
"Going to work in construction can be like a fist fight…I want to put a smile on somebody's face as opposed to the inherent fight that needs to go in construction sometimes."
Liberty Tree Outfitters' hours are only three days per week right now. The shop is open noon to 5 p.m. on Fridays, 10 a.m. to 6 p.m. on Saturdays and noon to 5 p.m. Sundays. The hours will expand to six days per week later on.
Also planned is a grand opening — the date of which has not yet been decided — and some Saturday "meet-ups" with classes on a variety of subjects including beer-making, self defense and how to set up a generator in a thunderstorm.
Photo caption: Jim Tillilie says Liberty Tree Outfitters is focused on family outings. (Photo by Rich Schwartzman)

Rich Schwartzman has been reporting on events in the greater Chadds Ford area since September 2001 when he became the founding editor of The Chadds Ford Post. In April 2009 he became managing editor of ChaddsFordLive. He is also an award-winning photographer.
Comments
comments