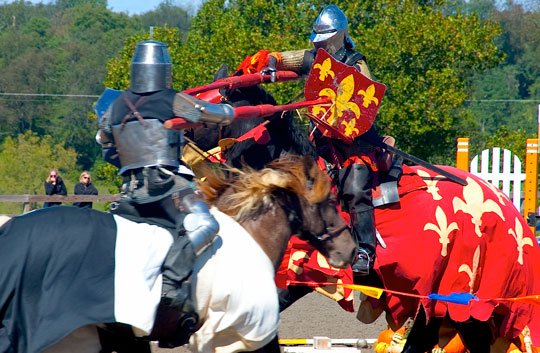 A weekend of serious Olympic-level equestrian events — including dressage, cross-country and show jumping — ended with a clash of jousting sticks as Sir Tyrant of Kent did battle with Sir John of Blow Horn.
The pair demonstrated skills by tilting at a quintain (a target on a post,) then plucking rings from the hands of their squires, tilted at each other in full armor and then finished their mock combat with a sword fight.
Both men admit it's great fun for them to joust, but it takes a lot of skill. It's not simple horseback riding, said John Moss, Blow Horn's alter ego.
Moss has been riding for 50 years and can't remember not riding. But guiding a horse is made more difficult by the visor, shield and lance.
"There are two things people don't realize," Moss said. "One is you can't see, and the other is you can't guide your horse with the reins."
He said rider and horse have to be trained so the rider guides the horse with his legs.
Moss has been jousting for six years and said he does it for love.
"I love to feel the lances smash apart," he said.
So does Tyrant, aka James Arroyo, 20, of Lancaster.
"It's fun," said a bruised Arroyo after being unseated when the lances clashed and splintered after striking the armor chest plate during his demonstration with Moss. "Everything about it is fun."
Arroyo has been riding for 15 years and is a member of the renaissance troop Roundtable Productions.
He even loves the more painful aspects of jousting.
"I just got hit really hard and I love it. You get a hit and it's an adrenaline rush and you get to ride at the same time," Arroyo said. "This year I broke my nose.
And what would a joust be without a queen and her ladies in waiting?
Cindy Buchanan and her daughters Audrey and Maggie, of West Marlborough, filled that bill.
Buchanan is a life-long rider who filled in at the last minute.
"I've never done this before in my life," she said. "It was fun. You've got to embarrass yourself once in a while."
The events were held at the Plantation Field, the former King ranch, off of Route 82 in West Marlborough.

Rich Schwartzman has been reporting on events in the greater Chadds Ford area since September 2001 when he became the founding editor of The Chadds Ford Post. In April 2009 he became managing editor of ChaddsFordLive. He is also an award-winning photographer.
Comments
comments