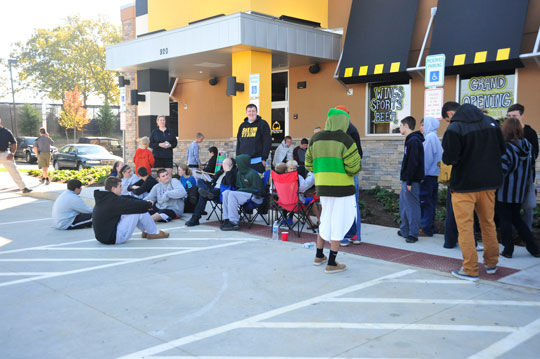 An offer of free chicken wings for a year drew a crowd for the opening of Buffalo Wild Wings in Concord Township. The first 100 guests received ticket for the free food.
The store opened Monday, Sept. 17, at 10 a.m. following a ribbon cutting. But some of the people, eager for free wings, camped out overnight having been at the store since 11 a.m. on Sunday.
"Free food tastes better," said Erin Denning of Glen Mills, one of the early arrivals.
Anthony Agabides, of West Chester, said getting the "best wings for a year" was worth the wait.
If you go
Buffalo Wild Wings is at 920 Baltimore Pike near the Wawa and Malvern Federal Savings Bank and across from the Shoppes at Briton Lake. Hours are 11 a.m. to 1 a.m., Monday through Thursday, 11 a.m. to 2 a.m. on Friday and Saturday and 11 a.m. until midnight on Sunday.
Food from the lunch menu, valid from 11 a.m. through 2 p.m. weekdays, ranges from $5.99 to $7.99. Manager Chris McCusker said there are specials Tuesday and Wednesday.
There are also 64 TVs in the restaurant giving it a decided sports feel, said fellow manager Mike Block.
Top photo caption: More than 100 wait for the Sept. 17 official opening of the new Buffalo Wild Wings in Concord Township. The first 100 guests received tickets for free wings for a year. (Photo by Rich Schwartzman)

Rich Schwartzman has been reporting on events in the greater Chadds Ford area since September 2001 when he became the founding editor of The Chadds Ford Post. In April 2009 he became managing editor of ChaddsFordLive. He is also an award-winning photographer.
Comments
comments