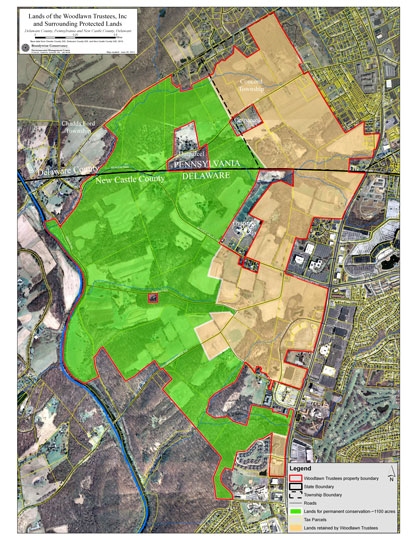 More than 1,000 acres of land, including 220 in Chadds Ford Township, could be turned into a national park covering parts of Pennsylvania and Delaware.
Delaware's congressional delegation, a host of Delaware state government officials, local non–profit group officers and Jon Jarvis, U.S. National Parks Director held a public meeting to discuss options for the recently preserved 1,100 acre Woodlawn Brandywine River tract of land along the Delaware/Pennsylvania border.
The public meeting, held in the A.I. DuPont High School auditorium in Greenville, drew an overflow crowd of outdoor enthusiasts and property owners who live near the tract. The public's concerns were the possibility of development of the recreational land and potential changes in access or use of the Woodlawn tract if it were to become part of a national park.
Blaine Phillips, mid-Atlantic regional director of the Conservation Fund told the audience: "Delaware is the only state in the United States that does not have a national park and we are working with Delaware's congressional delegation to change that…There are three potential outcomes for the Woodlawn tract. The land will either be donated to the United States National Park Service, the state of Delaware for creation of a state park or a private preserve. There is no possibility any of the 1,100 acres will be sold for commercial development."
According to Jarvis, "There are many benefits to a national park designation including the economics of tourism. National parks generate $31 billion for local economies and support 258,000 jobs across the country. For every dollar spent on a national park, $4 are returned to the local economy. The National Park System specializes in connecting and interpreting the elements of history that define a resource like the Brandywine River. A national park designation will ensure that this area is preserved for future generations."
Jarvis added that the approach is to "work with local communities to determine acceptable uses on the land."
As an example, he said the designation wouldn't prevent mountain biking or horseback riding. Those uses would be evaluated under the management plan process with the public.
"The bottom line," said Jarvis, "is that the National Park Service seeks to accommodate public access and recreation, as long as the type of recreation does not undermine the preservation value and resource protection of the park."
Delaware's congressional delegation has sponsored pending legislation for the formation of a National Park in Delaware which would include eight historic sites located in all three of Delaware's counties and the 1,100 acre Woodlawn Tract. Additional information regarding these historic properties and the status of this project is at http://www.carper.senate.gov/public/index.cfm/delaware-national-park-frequently-a
U.S. Sen. Tom Carper said the next step would be to decide whether to push pending legislation in Congress, or petition President Obama to designate the Delaware sites as a National Monument.
"It's not an easy thing to get done; there are a lot of people in Congress that don't want to create one more national anything," Carper said.
Caption: A possible 1,000-acre national park would cover area in both Pennsylvania and Delaware. More than 200 acres in Chadds Ford would be involved. (Courtesy image)
After 41 years of auditing large NYSE global corporations, former IRS Agent Jim Phreaner was looking for a project in retirement with fewer regulations and more people. He joined the staff at Chadds Ford Live more than a year ago. James Edward "Jim" Phreaner, 64, died suddenly in his Birmingham Township home on Dec.17, 2012. Jim was a devoted husband, son, father, friend, and neighbor.
Comments
comments