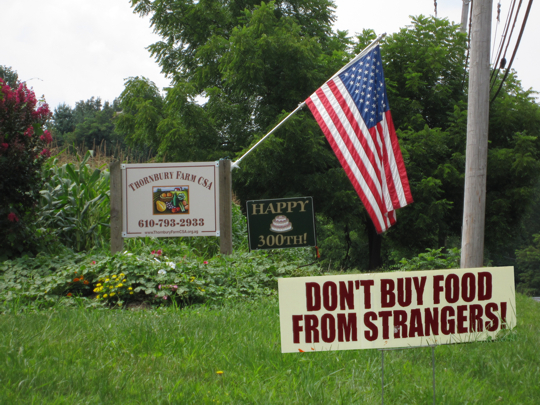 According to Thornbury Farm owner Randell Spackman, on average, carrots travel 1,780 miles to a retail super market. Although Thornbury Farm has been growing produce since 1709, community involvement is part of a food production revolution.
The idea of cooking with locally grown produce was popularized by Alice Waters' restaurant, Chez Panisse, and her cookbooks. Waters' contention is that food should be "based on the finest and freshest seasonal ingredients that are produced sustainably and locally."
"Don't buy food from strangers" a sign warns at the intersection of Route 926 andNew Street, a corner of Thornbury Farm. One way to know your food source is to join community sponsored agriculture orCSA.  Each spring local residents buy a membership and then receive each week produce from late May into the fall.
CSA members can pick some of the produce right off the vine. Children enjoy picking green beans or peas as well as cutting fresh herbs or a variety of fresh flowers to take home.
According to Spackman, "In addition to the popular CSA, this year over 1,000 local residents have visited his farm produce market and purchased fresh organic produce and local products including Baily's Meadow Farm fresh dairy milk from neighboring Pocopson Township. In addition to fresh produce and local dairy products, the produce market sells fresh eggs hatched by over 75 hens that roost on the farm within 100 yards of the produce market. Thornbury Farm also sells local fresh breads, cookies, milk, organic coffee, goat cheeses, jellies, spices, knick knacks and local honeys."
"Our website, http://www.thornburyfarmcsa.com explains how the CSA concept operate, the various types of produce we grow and we post some of the popular seasonal events we host," Spackman said.
The Spackman family's historic farm is located on the Brandywine Battlefield's Sandy Hollow corridor just off Birmingham Road. Over 180 acres of Thornbury farm land has been conserved which will limit development of the land.
In addition to the CSA and produce market, Thornbury Farm hosts events.  Local church groups have picnicked on the farm, and QVC studios is planning to shoot an outdoor cooking event later this summer.
Local restaurants Shoo-Mamas Café in Thornbury and Brandywine Prime in Chadds Ford now feature Thornbury Farm's fresh organic produce.
On August 18, Chadds Ford's Brandywine Prime restaurant will serve a five course tasting menu featuring locally grown produce from Thornbury Farm.  To see menu go to http://www.brandywineprime.com/pdf/120818_Thornbury.pdf
Full discloasure: Thornbury Farms CSA and Brandywine Prime are advertisers in Chadds Ford Live – your community sponsored news service.
After 41 years of auditing large NYSE global corporations, former IRS Agent Jim Phreaner was looking for a project in retirement with fewer regulations and more people. He joined the staff at Chadds Ford Live more than a year ago. James Edward "Jim" Phreaner, 64, died suddenly in his Birmingham Township home on Dec.17, 2012. Jim was a devoted husband, son, father, friend, and neighbor.
Comments
comments