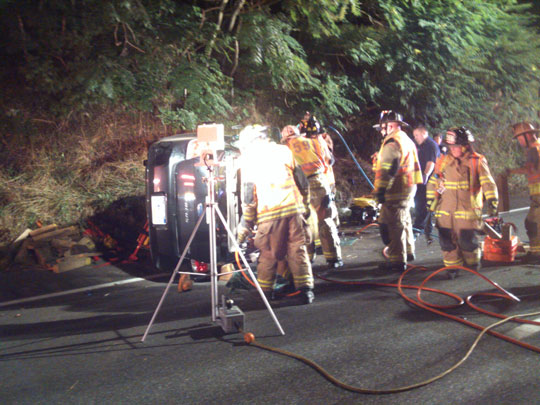 • Police said a 45-year-old man from Cochranville was transported with major injuries and cited for driving too fast for conditions following an accident on Route 1 in Chadds Ford Township. Police identified the man as Albert E. Frank III. According to police, Frank was following another car in the right hand land of southbound Route 1 when he tried passing on the right shoulder. The cars made contact side to side, but Frank's vehicle struck a curb, crossed two lanes of traffic and hit a concrete barrier before winding up resting on its passenger side. (See courtesy photo above.) The two occupants in the other vehicle were not injured in the July 30 accident, the report said.
• State police are looking for two people in connection with a July 26 burglary in Concord Township. The jewelry heist happened on Hemlock Drive between 3:30 and 4:30 p.m. According to a press release, one man, described as white, Hispanic, between 25 and 35 years old and standing between 5-feet 5-inches and 5-feet 10-inches tall, distracted the 91-year-old homeowner while another person entered the house and removed various amounts of jewelry. Anyone with information is asked to call police at 484-840-1000.
• A former bank teller at the Glen Mills branch of WSFS is charged with Theft by Unlawful Taking and with Receiving Stolen Property. Police said Samuel Francis Barksdale — a teller at the bank from Nov. 20, 2011 until June 20 — confessed to stealing more than $69,000 from the bank. An internal audit revealed $69,379 to be missing.
• A 59-year-old woman, who police said is from Chadds Ford Township, was arrested on theft charges. A report said Victoria Lauterbach tried leaving the Whole Foods store in Glen Eagle Square without paying for merchandise. She was arrested, processed and released, the report said.
• Police arrested Lucien John Willette, of Florida, for DUI on July 29. A report said Willette showed signs of impairment when stopped for traffic violations on Route 1 at Route 202 at 1:36 a.m.
• Two people were injured and one was cited following a two-car crash on Creek Road near Cossart Road in Pennsbury Township. The accident happened shortly after 8 p.m. on July 24. Police said a 2006 Acura, traveling south on Creek Road drifted into the opposing traffic lane and struck a northbound 2011 Toyota Highlander. Police said the Acura driver, Andrew Thompson, 26, of New Castle, received major injuries, but was also cited. The other driver, Fritz Schumann, 55, of West Chester, received minor injuries, the police report said. In a separate press release, police said Thompson was charged with DUI.
• State police reported a case of harassment in the 3100 block of Chevers Drive in Concord Township. A report said a 38-year-old man pushed open a door into the face of a 38-year-old woman, causing the victim's nose to bleed. He then started yelling at the victim, police said, and he then fled the scene. The incident happened July 23.
• Police said a 73-year-old woman from Wilmington received minor injuries in a two-car accident on Route 1 near Hickory Hill Road in Pennsbury Township on July 20. Sandra G. Vanamburgh was also cited for failing to yield, police said. According to the report, Timothy G. Barrett, 34, of Oxford, was traveling south on Route 1 when Vanamburgh entered onto the roadway from a private drive without yielding. Barrett then struck Vanamburgh's car on the driver's side. Vanamburgh was taken to Christiana Hospital. Barrett was not injured.
• State police report no injuries stemming from a July 27, two-car crash on Cossart Road in Pennsbury Township. According to police, Margaret E. Moore, 56, from Chadds Ford, turned left onto Cossart from Creek Road. She failed to stay in the right lane, police said, and crossed into the traffic lane of another car that was approaching the stop sign on Cossart and Creek Road.
• Police are looking for whoever siphoned waste cooking oil from a container located behind Jimmy John's restaurant. A report said the suspects fled the scene driving north on Route 202 in a white panel truck.
• Following a series of household burglaries in Middletown Township, state police are reminding people to take precautions. The incidents have been happening during the daytime with entry into the homes gained through rear doors and windows.
Police offer the following precautions:
• Always lock your doors when doing yard work, getting mail, or anytime you go outside - both front and back doors. Keep garage doors down;
• Close your blinds;
• Do not leave windows open. Do not leave keys in vehicle. Do not leave items (i.e. purses, laptops, GPSs) out in plain view;
• Consider a house alarm.
Call the police to report the incident immediately. Never be too embarrassed to report that you've been victimized or swindled.

See Contributors Page https://chaddsfordlive.com/writers/
Comments
comments