Friday night, July 27, was a classic win-win situation.  The Wilmington Blue Rocks surged to a 6-2 victory over the Carolina Mudcats, and the Brandywine Battlefield Park got the support of 116 area residents who bought tickets for the game.
For the second year, Chadds Ford area residents and businesses went to Frawley Stadium to see the Blue Rocks play baseball and to show support for the park.  Friends of Brandywine Battlefield keep open the park located in ChaddsFord Township despite cut backs from the state of Pennsylvania. The Friends get help from volunteers and benefits such as the annual Blue Rocks event.
Christmas in July was the theme at the ball park complete with carolers and "snow" sprinkled from the upper deck.  Pictured above, Paul Geary, President of GRW Medical, celebrated with his grandchildren.
Event sponsors areBeth Alois,Bryn Mawr Trust Company, Chadds Ford Live, Classic Physical Therapy, GRW Medical, Leader Sunoco, Deborah Love, Pennock Insurance, Spencer Graphics, George Thorpe, and WSFS.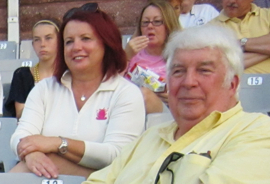 Pictured left are Chadds Ford Township Supervisors Deborah Love and George Thorpe.
The net proceeds will be awarded to Friends of Brandywine Battlefield on Thursday, September 6, at Brandywine Primeat 5 p.m.  To attend the award event sponsored by the Chadds Ford Business Association, click here to purchase $15 ticket.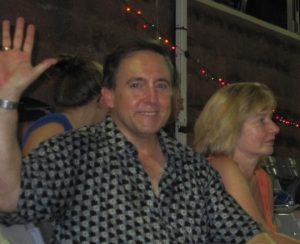 Local historian and Chadds Ford Live columnist, Gene Pisasale and his wife Phyllis Recca are active in preservation of and education about local history. This year, the funds raised at the baseball benefit will be matched by the Phyllis Recca Foundation.
It is not too late to contribute. To make a tax-deductible contribution to Friends of Brandywine Battlefield, click here.
Lisa Dort, Glen Mills Branch manager of WSFS, and Bill Spencer, President of Spencer Graphics, like the location of the seats this year right behind home plate. They have already begun plans for next year. Stay Tuned.
The trivia question of the night from Pennsbury Township resident Fred Baraka twas "What are the eight ways to get to first base without making a base hit?"  The first reader who posts the answer to this site gets two free tickets to a Blue Rocks game for later this season.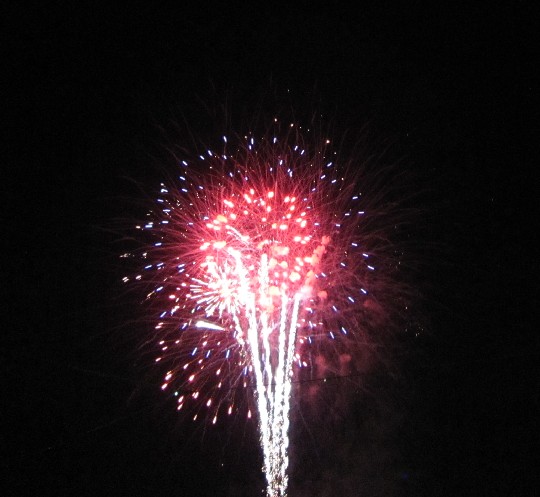 Friday night Blue Rocks  home games end with fireworks.

Emily Myers has lived and worked in Chadds Ford for over thirty five years.  She founded the parent company of Chadds Ford Live, Decision Design Research, Inc., in 1982.  ChaddsFordLive.com represents the confluence of Myers' long time, deep involvement in technology and community. Myers was a founding member of the Chadds Ford Business Association and currently serves on its board of directors.  Her hobbies include bridge, golf, photography and Tai Chi. She lives with her husband, Jim Lebedda, in Chadds Ford Township.
Comments
comments