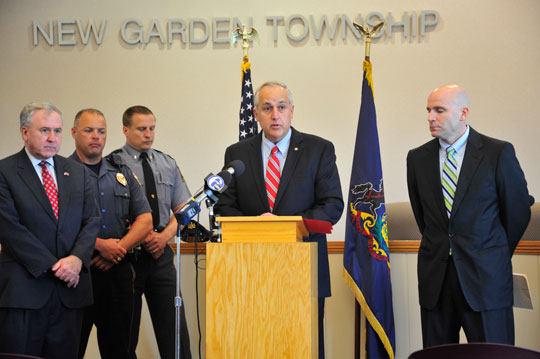 State Sen. Dominic F. Pileggi, R-9, of Chester, is introducing a new piece of legislation that's designed to control the growth of gangs in the state. Pileggi and fellow state Sen. John Rafferty, R-44, of Pottstown, announced the bill at a press conference in New Garden Township on July 30.
The proposed law — drafted by Chester County District Attorney Thomas P. Hogan — makes recruiting gang members a criminal offense. Hogan said two killings in Avondale last December prompted him to work on the draft.
"This legislation is designed to protect our children and prevent criminal gangs from invading our communities," Hogan said in a prepared statement.
He said during the press conference that there would be three tiers to the new law. Simply soliciting a gang recruit would be a misdemeanor. It would be a felony to use intimidation to force someone to join or stay in a gang and it would be a more serious felony if intimidation included assault.
"Out of the ashes of tragedy, sometimes good things can be created," Hogan said, tying together the Dec. 3, gang-related killings and the proposed legislation. "If this legislation saves just one child from being recruited into a gang, it will be a success," Hogan said.
The law, he said, is designed to prevent other young people from being "pulled into the gang lifestyle, a road that can only lead to death or incarceration."
Hogan said he worked with New Garden Police Chief Gerald Simpson to research laws in other states to come up with the legislation.
While there is an increase in gang activity in Southern Chester County, Hogan said there was no increase in Birmingham or Pennsbury townships in Chester County or in Chadds Ford or Concord in Delaware County. He declined to release any information on the number of gangs or gang members in Chester County because that information is part of ongoing police investigations.
Rafferty said he wants the bill to get to the governor's desk for a signature by sometime in November.
Also backing the measure is state Sen. Edwin "Ted" Erickson, R-26, of Newtown Square. Erickson did not attend the press conference.
Photo caption: State Sen. Dominic F. Pileggi announces a proposed piece of legislation that would make it illegal to recruit for a criminal gang. The proposed bill was announced at a press conference in New Garden Township. (Photo by Rich Schwartzman)

Rich Schwartzman has been reporting on events in the greater Chadds Ford area since September 2001 when he became the founding editor of The Chadds Ford Post. In April 2009 he became managing editor of ChaddsFordLive. He is also an award-winning photographer.
Comments
comments