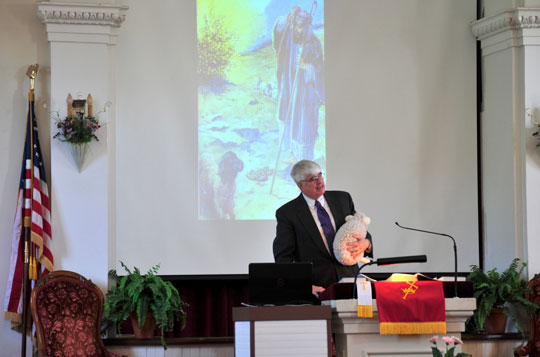 As a boy, Bill Scott wanted to be a carpenter, but realized he didn't have the skill. So, at age 12, he changed his mind and decided to become a preacher. That he did and, for the past 24 years, has been the pastor at Brandywine Baptist Church in Chadds Ford Township.
Those days have come to an end, however. The Rev. William H. Scott led his final service at the 320-year-old church on June 24. He's officially retired as of June 30.
Many members of the congregation will miss the man who has been as much their friend and confidant as spiritual leader.
Following church service on the last Sunday in June, members of the congregation said good-bye with warm wishes, thanks, prayers and fond memories of a passionate and compassionate preacher with a penchant for puppeteering.
Chadds Ford's Gary Sharp said he and his wife were thousands of miles away when his mother became ill. It was Scott with whom he entrusted decision making until he was able to get back to Chadds Ford.
Another Chadds Ford resident, Rob King, told how he was on the committee that selected Scott as preacher. One of the other members drew a baseball analogy, he said,
"One young man said, 'We should look for a pastor who's a power hitting shortstop with really good hands.' In 20-some years I don't think I ever saw a bat, a ball or a glove in Bill's hand unless a puppet was holding it...We traded those softball skills for a powerful preacher with praying hands," King said, "and our church community has been blessed because of that."
Scott has always made himself available, King said, for questions, discussions or for resources and he impressed King over the years with his devotion to God and family, and with his integrity.
"I've not seem him waiver from any of these," King said, and thanked Scott for being a blessing to the King family.
Judy Mummert, also of Chadds Ford, said Scott exemplifies what it means to be a man of God, someone who "taught us how to direct our lives…He's always been there as a friend and a prayer warrior."
Scott characterized his 24 years of service to the Chadds Ford congregation as dealing with the "rhythms and cycles of life in the church. I've been with families on the day their children were born and I have been with people at the time of their passing out of this life. It's been celebrating the joys of newlyweds and dealing with people in crisis. I guess it's what any minister experiences, but when you experience it for 24 years… the children who were very young when I first came here are now all young adults, and it's been a real privilege to watch them grow."
He said his close relationship with members of the church was inevitable, because, as a minister, he's spending time with people in times of their greatest crises.
"For whatever psychological reason, people identify the pastor, somehow with the presence of God more than with other people. And so that's, in one sense, an awesome burden to bear, but at the same time, there's an opportunity to really be more effective in ministry because people have more confidence in you, because, in a sense, you are God's representative," he said.
He said it's difficult to evaluate any changes in attitudes of the congregation over the years because he's been part of the ebb and flow and not sure he would have noticed because he and the congregation have all changed together.
"If anything has changed with regard to an attitude, [it] has been a deeper dependency upon God and confidence in what He can do; not just as what I can do as a pastor," he said.
His faith remains as strong as ever, possibly more so since he's learned that even after preaching for decades, he too needs that higher power.
"I've learned that with all of my training and with all of my experience, I'm still as dependent upon God for any kind of success as I was on my first day after I was ordained," he said.
Scott has always had an interest in puppets and puppeteering and used that skill within his ministry, not only with children, but sometimes with adults. He said there were times when he scolded the congregation through a puppet, scolding the puppet for doing things the congregation had been doing.
He is the president of the Fellowship of Christian Puppeteers and plans to continue that for another year. There are also a number of projects in his pipeline. Some concern puppetry, while others concern some books he wants to write for other pastors and some for his family to share his story with them. He also wants to learn how to sculpt.
-- By Rich Schwartzman
Photo caption: Holding one of his hand puppets, the Rev. William H. Scott gives his final sermon as pastor of Brandywine Baptist Church. Photo by Rich Schwartzman.

See Contributors Page http://chaddsfordlive.com/writers/
Comments
comments